Are you planning a visit to Playa del Inglés and wondering where to satisfy your taste buds without breaking the bank? Look no further! Our guide to the best restaurants and affordable dining spots in Playa del Inglés is here to help you navigate the vibrant culinary scene of this beautiful seaside town.
Top 5 restaurants in Playa del Inglés
Whether you're a foodie seeking gourmet experiences or a budget-conscious traveler searching for cheap eats, we've got you covered. From cozy family-owned eateries to international dining hotspots, Playa del Inglés offers a diverse range of options to tantalize your palate.
Let's explore the best places to eat in Playa del Inglés in Gran Canaria!
1. Aloha Hamburger Bar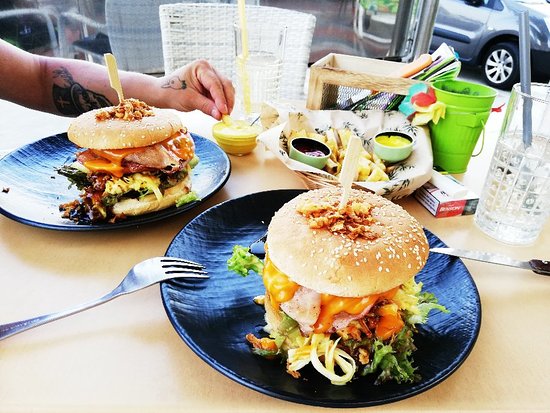 For tourists seeking the finest burger experience in Playa del Inglés, Aloha Burger Bar is the ultimate destination. You can't miss out on their homemade french fries and their special burgers with 200g of meat of top quality. They also offer their burgers with chicken instead of beef. 
Relish burgers made with the highest quality ingredients, with each patty meticulously handcrafted from premium beef cuts, complemented by fresh buns and an array of delightful toppings, ensuring each bite offers a delightful surprise.
Furthermore, it provides a warm and inviting atmosphere for a family-friendly dining experience, perfect for quality time together. The chef and waiter are very friendly and engaging, always assuring your welfare.
Savoring gourmet burgers at Aloha Burger Bar doesn't necessitate breaking the bank. The restaurant is committed to delivering top-notch quality without the premium price tag. Its burgers are between $9-$13. It's indeed one of the best places to eat in Playa del Inglés and its burgers are hard to top off.
2. Restaurant Columbus
If you're seeking a dining experience that combines stunning beachfront views, exceptional service, and delectable food in the south of Gran Canaria, look no further than Columbus Restaurant.
Situated right on the beachfront, Columbus provides diners with a breathtaking backdrop of the sparkling sea and golden sands. Whether you're enjoying a leisurely lunch or a romantic sunset dinner, the view here is simply unbeatable.
You'll be served hearty portions and the restaurant stands out for its expertise in grilled cuisine. The smoky, flavourful goodness of their grilled dishes is a highlight of the menu and a must-try for any food enthusiast.
On top of that, for those with dietary preferences or restrictions, the restaurant is a standout choice. They offer a range of gluten-free options, ensuring that everyone can try their dishes without worry.
Regarding the price, you'll find that the menu offers incredible value for the culinary excellence you'll experience. It has great prices and top-notch food quality, maintaining the cost of eating out in Playa del Inglés quite low compared to other touristy restaurants.
The Restaurant Columbus also stands out for their amazing service and for its dessert masterpieces, a perfect way to finish off your meal.
3. Rustico Pizzería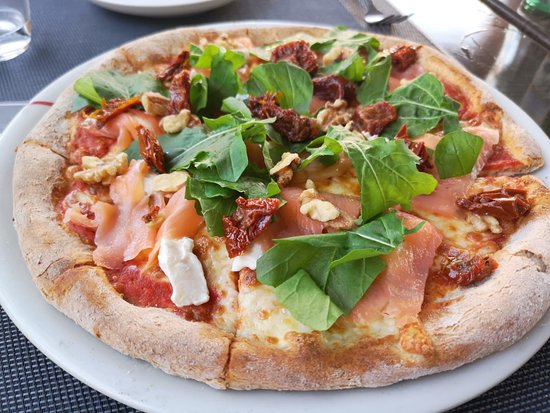 Embark on an authentic Italian dining experience right in the heart of Playa del Inglés. The restaurant's friendly staff ensures that every visitor feels warmly welcomed in the cozy, modern, and spacious dining environment that captures the true essence of Italy.
Rustico's menu features quality starters that set the stage for a symphony of flavors. Among the standout dishes we recommend the vegetable lasagna and, of course, it's pizzas with thin and crispy pizza dough, crafted from homemade recipes perfected over time. This dough forms the foundation for a mouthwatering array of pizza creations. And for dessert, we highly recommend its spectacular tiramisù, a dessert that leaves a lasting impression with its harmonious blend of flavors.
The Pizzeria Rústico is committed to using the finest quality ingredients, ensuring that every dish evokes the essence of Italy. For those with dietary preferences, gluten-free options are also available to accommodate all diners.
Recognized as one of the top pizzerias in Gran Canaria, Rustico takes pride in delivering an authentic Italian experience with competitive prices.
For those craving an explosion of flavors, top-quality ingredients, and an inviting Italian atmosphere, Rustico Pizzeria is the ideal place to eat well and cheap in Playa del Inglés. Buon appetito!
4. La Tapita Los Jose's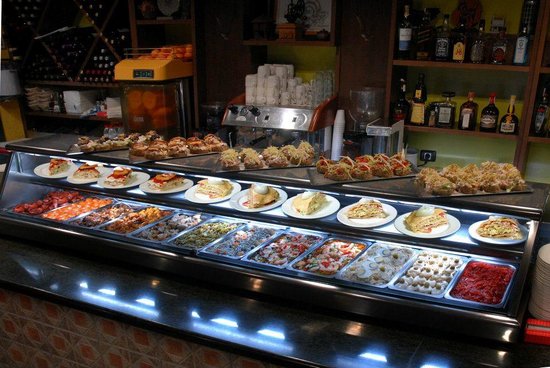 At La Tapita Los Jose's, diners are in for an unforgettable Spanish tapas experience in Playa del Inglés. Each dish served at La Tapita Los Jose's is a true work of art, carefully crafted to deliver the perfect blend of quality and flavor. From traditional favourites to innovative creations, the menu is a testament to the culinary expertise of the chefs.
Furthermore, the restaurant's staff is renowned for their warmth and friendliness, ensuring that every guest feels welcomed and at ease as they embark on their culinary journey.
The food here is consistently delicious, with every dish prepared to perfection. Each bite is a burst of Spanish flavors that transport diners to the heart of Spain. And for those with a sweet tooth, the fantastic desserts at La Tapita Los Jose's are a must-try. 
However, while the quality of the dining experience is exceptional, it's important to note that the prices at La Tapita Los Jose's are on the higher side.
5. Bandera Tapas Y Copas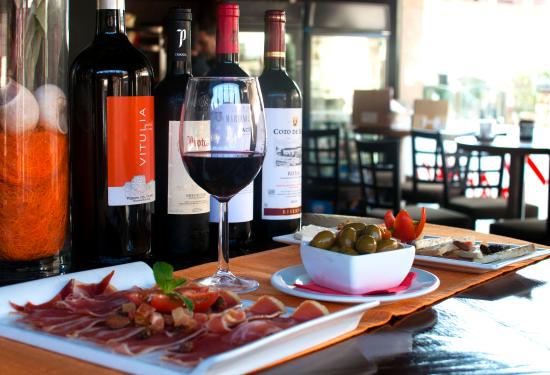 At Bandera Tapas Y Copas you can try Spanish cuisine, tapas, and cocktails, all within the heart of Playa del Inglés. The restaurant is celebrated for its fantastic grilled meat dishes, serving generous portions that satisfy even hearty appetites, all at an adequate price point.
Regarding the dishes, we recommend the midday meal. It's the perfect way to enjoy Spanish flavors during lunchtime. Also, its wrinkled potatoes are a Spanish delicacy that's not to be missed. Freshness is the key when it comes to tapas here. Every bite bursts with flavor, showcasing the artistry of Spanish cuisine. Don't forget to pair your meal with homemade cocktails for the complete experience!
Bandera Tapas Y Copas also stands out for its calm atmosphere, making it an ideal place to unwind. Plus, with easy access to the restaurant and parking spaces for reduced mobility, it's accessible to all. However, if you prefer a more vivid experience, take note that on weekends, the restaurant comes alive with the beats of a DJ, creating a lively atmosphere for those looking to dance the night away while savoring cocktails and tapas.
Savoring Playa del Inglés - A Culinary Adventure in Gran Canaria
Playa del Inglés, the vibrant coastal town in Gran Canaria, isn't just a paradise for beach enthusiasts and sunseekers; it's also a treasure trove of culinary delights waiting to be explored. In this article, we've journeyed through some of the finest dining establishments this charming destination has to offer.
From the beachfront elegance of Columbus Restaurant to the rustic charm of Rustico Pizzeria, and the authentic Spanish experiences at La Tapita Los Jose's and Bandera Tapas Y Copas, Playa del Inglés boasts a diverse culinary landscape that caters to every palate.
Whether you're in the mood for gourmet burgers, Italian classics, Spanish tapas, or a fusion of flavors, Playa del Inglés has you covered. The friendly staff, quality ingredients, and attention to detail in each establishment ensure that dining here isn't just a meal but an adventure for the senses.
Don't know where to stay in Playa del Inglés?
VillaGranCanaria invites you to discover a world of unparalleled luxury and comfort. Whether you're seeking the privacy and relaxation of your own villa with a private pool or the breathtaking beauty of beachfront rentals, our accommodations offer the perfect sanctuary for your dream vacation. 
Imagine waking up to the gentle sound of the waves, lounging by your private pool, or strolling along the pristine beach just steps from your doorstep. With meticulous attention to detail and a commitment to exceptional service, VillaGranCanaria ensures that your stay in Playa del Inglés is nothing short of extraordinary. Escape to a world of exclusivity and serenity; your dream getaway awaits at VillaGranCanaria.
Did you like this article? Share it!