Discovering the streets of a magical island on a sunny day with temperatures around 20 degrees and not encountering any other vehicles is what makes cycling in Gran Canaria so special. Not to mention the landscapes that take your breath away at every turn and the sea view on the horizon: a unique experience.
There are experiences that are hard to forget. Especially if you have "pedalled" them by yourself. The cycling routes in Gran Canaria represent a variety of perfect conditions, whether for mountain bikers or for racing cyclists: from gravel paths to paved roads with many differences in altitude that pass volcanic landscapes and are a great challenge for many cyclists of different levels.
However, the best thing is the stable temperature all year round and the low rainfall that allow us to practice this sport all year round.
3 cycling tours on Gran Canaria
Cycling tourism lovers will be very satisfied on the island because of the direct contact with nature. The bicycle is the perfect companion to discover spectacular landscapes, whether as a mountain biker or a long-distance rider.
The natural landscape of Gran Canaria rightly gives it the name of "miniature continent". Cyclists have an infinite choice of tours with which they can admire the spectacular nature from every angle, whether in the mountains or along the coast
1. Maspalomas-Ayagaures-Maspalomas (26 km)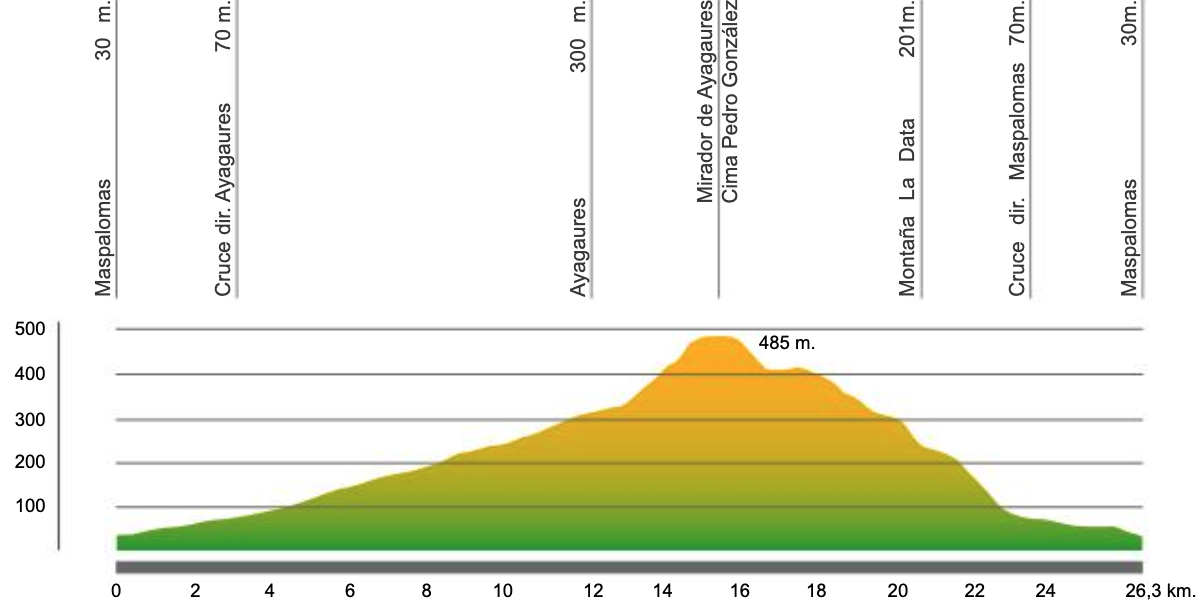 The first bike tour in Gran Canaria that we would like to recommend to you is short in terms of kilometres and time, but it is perfect to start your training, as it has something of everything: ascent, descent and flat stretches.
We start in Maspalomas and follow the GC-504 towards Ayagaures and after passing the water park Aqualand we turn right and with a gentle but constant ascent we reach the reservoir Ayagaures, where we turn 90 degrees left.
On the GC-503 we climb uphill on strong ramps (up to 12%) to the peak of Pedro González. The descent goes through the Palmitos Park, Montaña la Data and ends in Maspalomas.

2. Maspalomas-Santa Lucía-Taidía-San Bartolomé-Maspalomas (79 km)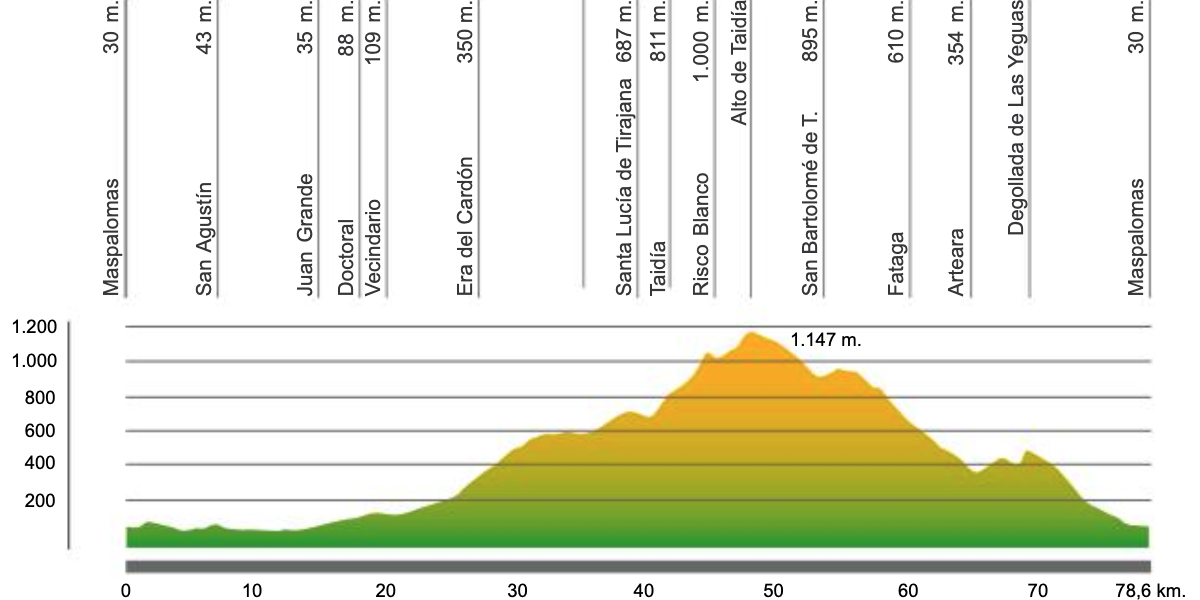 This cycling route is located in the southern municipalities of San Bartolomé de Tirajana and Santa Lucía de Tirajana. Its highest point is undoubtedly one of the most spectacular places for cycle tourism on the island.
We start in Maspalomas and head towards Vecindario on the GC-500 until the El Doctoral crossroad, where we turn left and take the GC-65 to go down to Era del Cardón and then turn left again until Santa Lucía de Tirajana.
Crossing the village, we must continue along the GC-654 until we reach the picturesque village of Rosiana (difficult climb!). Shortly after Taidía you will arrive at the Risco Blanco junction. Now turn left to San Bartolomé de Tirajana/Tunte and Fataga.
Crossing this village, you will reach the Arteara oasis, from where a 5 kilometre climb starts and ends at the Degollada de las Yeguas viewpoint. Now it is only downhill until Maspalomas.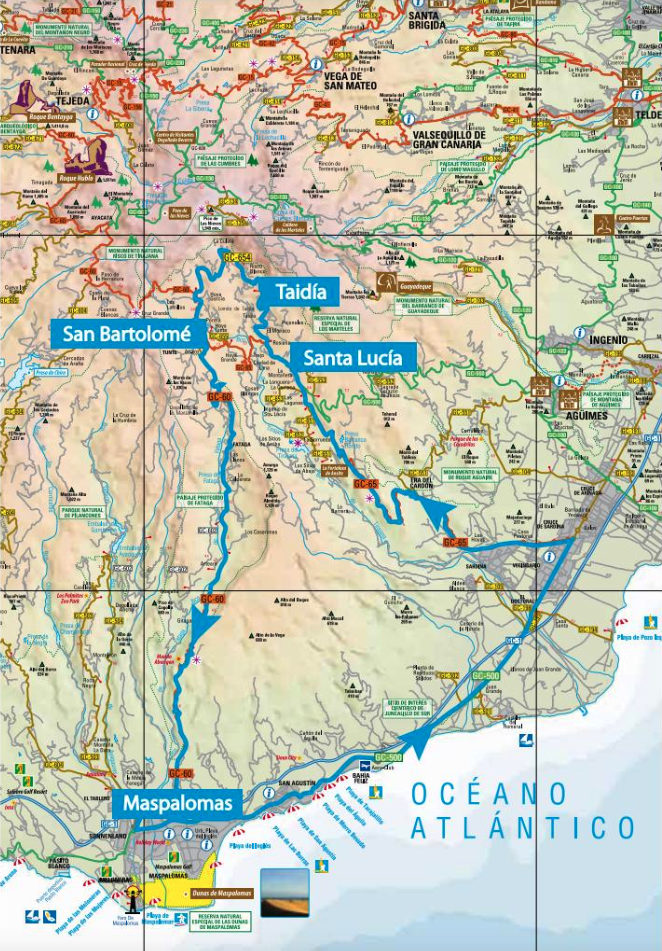 3. Maspalomas-Mogán-Cruz de San Antonio-Ayacata-San Bartolomé-Maspalomas (100 km)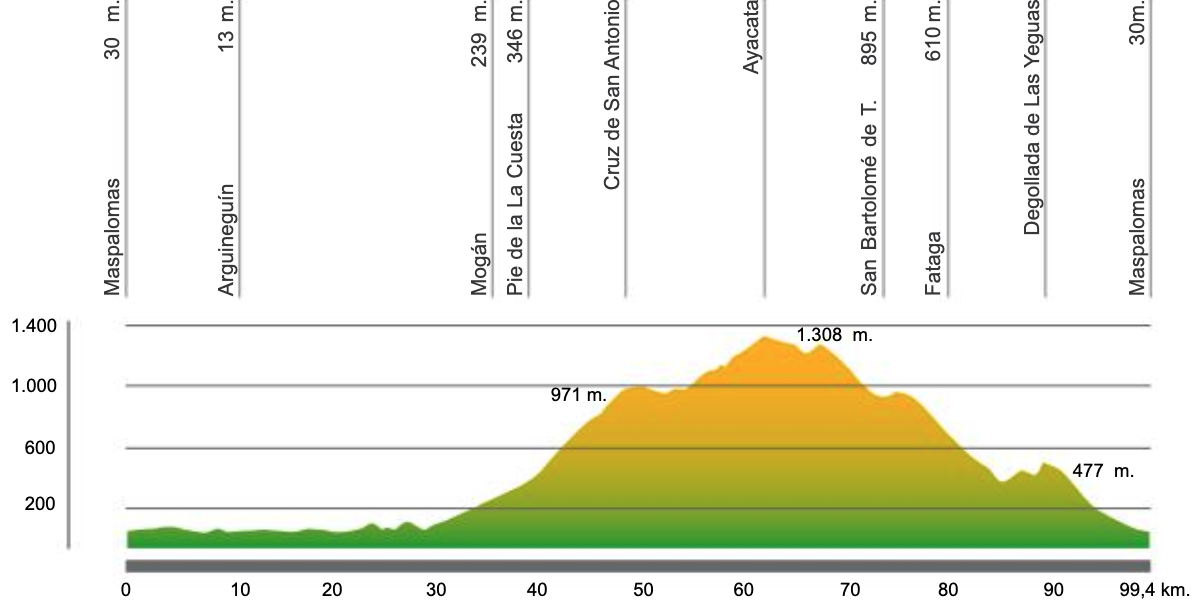 A longer route starts from Maspalomas, where you must take the GC-500 towards Mogán, drive along the coast and cross the picturesque fishing village of Arguineguín. When you reach the fishing village of Puerto de Mogán, turn right onto the GC-200.
This is followed by a 9 kilometre descent to the village of Mogán. After 2.5 kilometres you have to follow the road to the right towards Cruz de San Antonio (10km).
We now turn left onto the GC-605 towards Ayacata, leaving the Presa de Las Niñas reservoir on our right. We continue on the GC-60 via San Bartolomé de Tirajana, Fataga and Arteara to the viewpoint Mirador de la Degollada de las Yeguas and finally to Maspalomas.
Cycling events on Gran Canaria
Perhaps the biggest attraction for cyclists is the Gran Canaria Bike Week, also known as La Cicloturista. This year it will take place from 5 December to 12 December and it will be like always a feast for the eyes.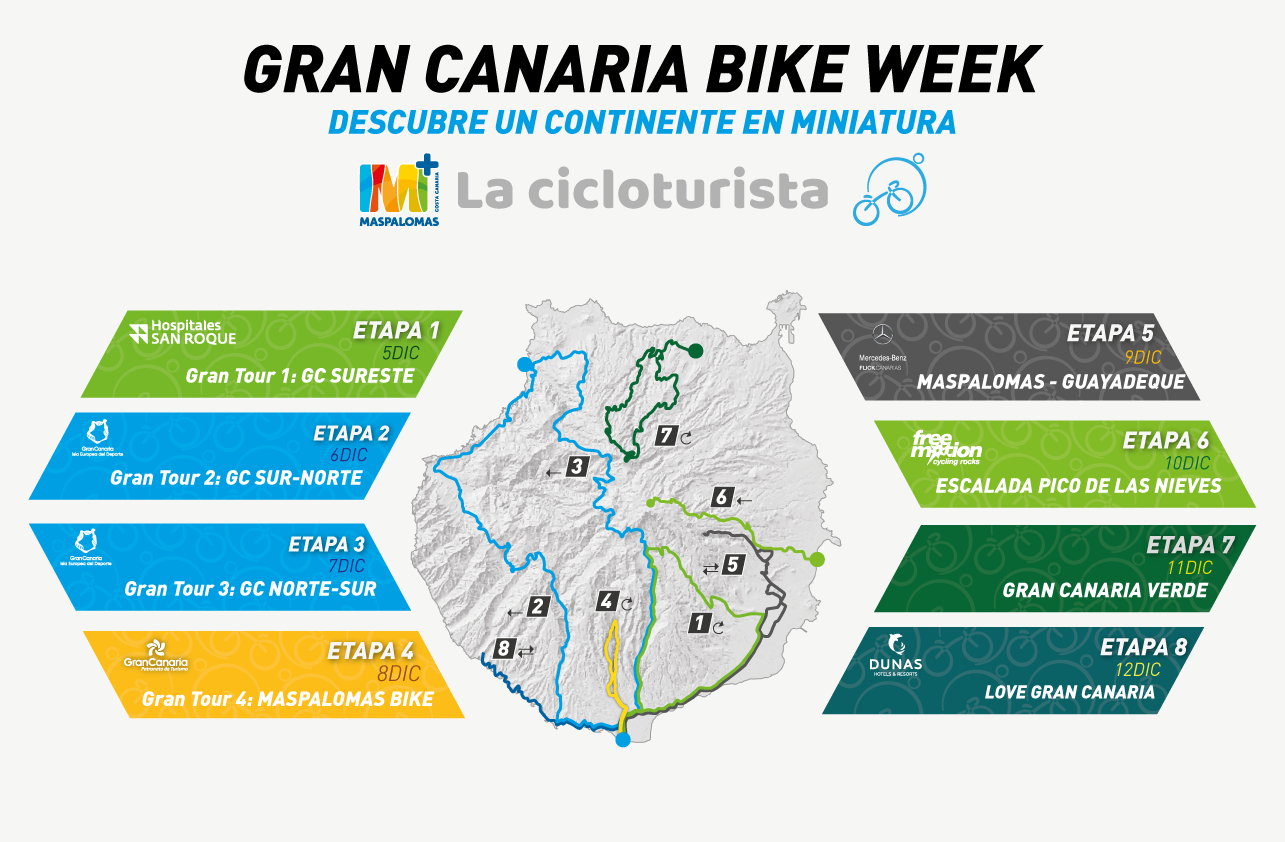 This year we have the following stages:
Stage 1: Maspalomas-Santa Lucía-Tunte-Maspalomas (5 December , 77 kilometers and a positive gradient of 1.360 m).
Stage 2: Faro de Maspalomas-Agaete (6 December, 95 kilometers and a positive gradient of 2.130 m).
Stage 3: Agaete-Maspalomas (7 December, 98 kilometers and a positive gradient of 2.305 m).
Stage 4: Maspalomas-Ayagaures-Maspalomas (8 December, 32 kilometers and a positive gradient of 505 m).
Stage 5: Faro de Maspalomas-Guayadeque-Maspalomas (9 December, 88 kilometers and a positive gradient of 1.615 m).
Stage 6: Ingenio-Pico de Las Nieves (10 December, 30 kilometers and a positive gradient of 1.930 m).
Stage 7: Arucas-Caldera Pinos de Gáldar-Arucas (11 December, 82 kilometers and a positive gradient of 1.900 m).
Stage 8: Faro de Maspalomas-Taurito (12 December, 53 kilometers and a positive gradient of 730 m).
The best accommodation for cyclists on Gran Canaria
Where can you relax best and gather the maximum energy to start with one of the mentioned routes? The answer can only be one: in our accommodation in the south of the island.
At VillaGranCanaria you will find incredible villas with private pools where you can relax and gather energy and where peace and privacy are the most important things for us.
We are waiting for you so that you can get the most out of cycling on Gran Canaria on its great cycling routes at the best price. You don't want to miss this island with its unique roads and paths, which is perfect for you as a cyclist, right?
Sources
Did you like this article? Share it!