The Canary Islands are a true paradise where you can enjoy one of its hallmarks, its beaches. Here, you can enjoy them practically all year round. Furthermore, one of the best ways to disconnect from the world and take a few days of well-deserved rest is to visit the white sand beaches of Gran Canaria.
We all know the virtues of the round island as a tourist attraction. Its wild natural landscapes attract numerous visitors. But without a doubt its hallmark is its beaches that you can find all over the island.
That's why today we want to tell you about the most valued and visited coasts of Gran Canaria. Pack your suitcase, towel, flip-flops and swimsuit because you're going to take a few dips in the best beaches of the Canary Islands.
The 5 best beaches with white sand in Gran Canaria
It's no secret that Gran Canaria is an island with beaches that'll take your breath away. To give you an idea of its importance, of the 46 blue flags in the Canary Islands, 13 are thanks to the beaches of Gran Canaria and their care.
 
Likewise, you'll always be able to find your ideal beach thanks to the enormous variety of black sand beaches, rocky beaches, virgin beaches and, of course, white sand beaches.

If you want to know our ranking of what, in our opinion, are the 5 best beaches of Gran Canaria with white sand that you can find in Gran Canaria, keep reading.
1. Playa de Maspalomas
The beach of Maspalomas is one of the best white sand beaches on the island. With almost 6 kilometres of beach, with its dunes as its main attraction and its lighthouse as its final destination, it's a true paradise.
It's an ideal beach to spend a day with the family, to enjoy activities such as surfing or windsurfing, or simply to stroll and lose yourself in its marvellous dunes. 
 
Our recommendation is to put the finishing touch to a day at the beach by contemplating one of the best sunsets from the dunes that can be seen on the whole island.
2. Las Canteras
In the middle of the city, you'll be able to leave the asphalt and pavements behind and come across the most emblematic beach of the Canary Islands. 
Las Canteras is a natural enclave that must be visited if you're on the island. It's the largest citybeach in Spain, with a promenade of more than 3.5 kilometres, with its natural barrier that protects unique marine species and is ideal for snorkelling lovers.
It's also one of Gran Canaria's white sand beaches, ideal for spending a day with the family and eating in one of its restaurants and tasting typical dishes such as papas arrugadas (wrinkled potatoes with mojo sauce) or ropa vieja (a kind of stew). 
3. Playa de Güi Güi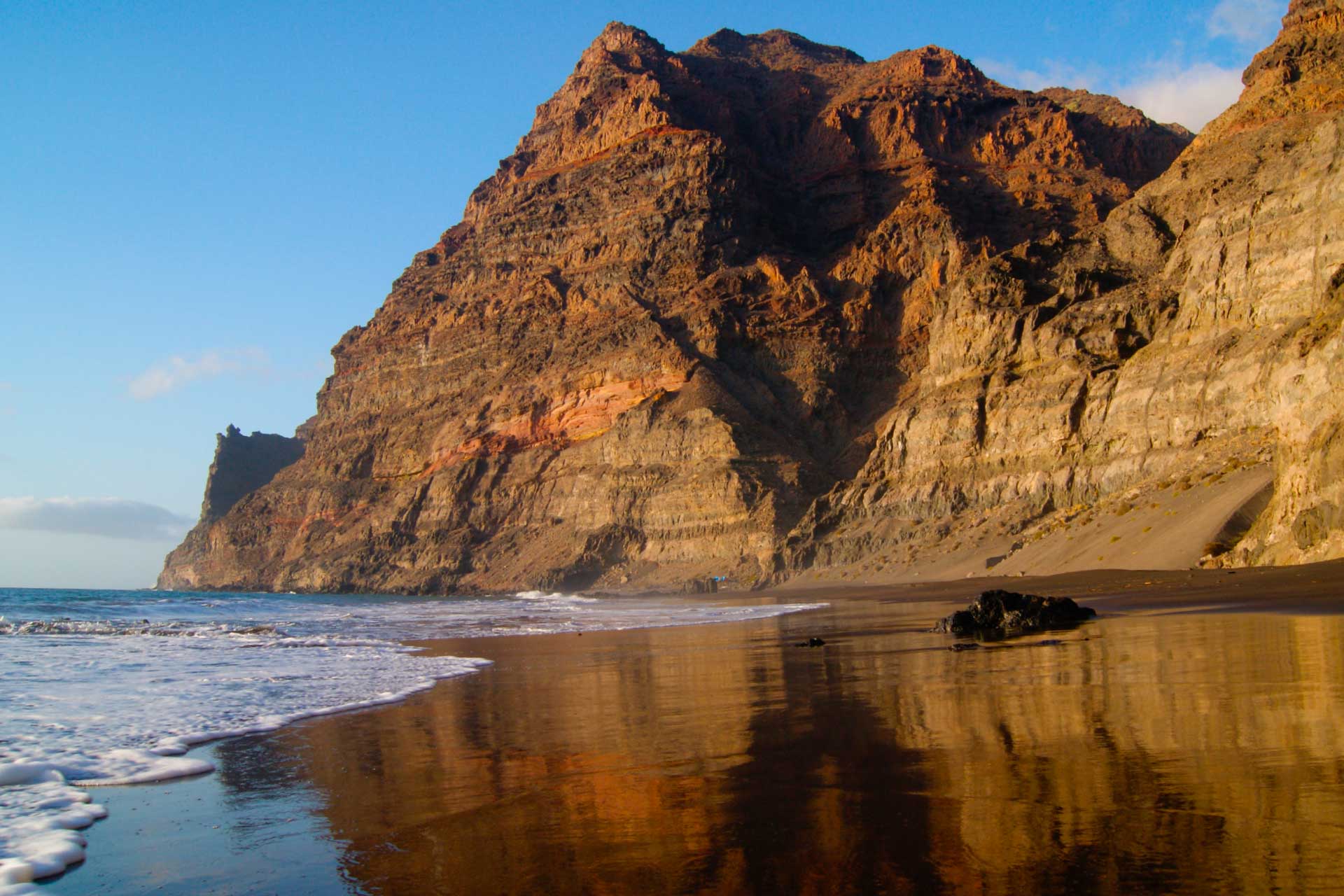 If you're one of those people who have an adventurous spirit and like to get to know hidden and little-travelled places, Güi Güi Beach is undoubtedly the best place to get to know the wildest side of the island.
Unlike many beaches that suffer from overcrowded tourism, Güi Güi has managed to stay away from the crowds and preserve its more natural side.
 
Thanks in part to its remoteness and difficult access, you can reach it on foot after a long walk, or you can go to the fishing village of Agaete and charter a boat to take you directly to the beach.
 
We assure you that these small logistical inconveniences are nothing compared to what you'll find on arrival at the site. It's one of Gran Canaria's white sandy beaches, where you can breathe in the peace and tranquillity of its unspoilt natural surroundings.
4. Puerto Rico
We get to the most touristy area of the island with the beach of Puerto Rico. This is one of the most famous beaches in the southern municipality of Mogán, with a wide range of interesting leisure activities to make the most of a day at the beach.
It's an excellent beach if you want to spend an entertaining day, without getting bored, practising water activities such as jet skiing or sailing, or simply enjoying the food and drinks along the promenade.
5. Playa de San Agustín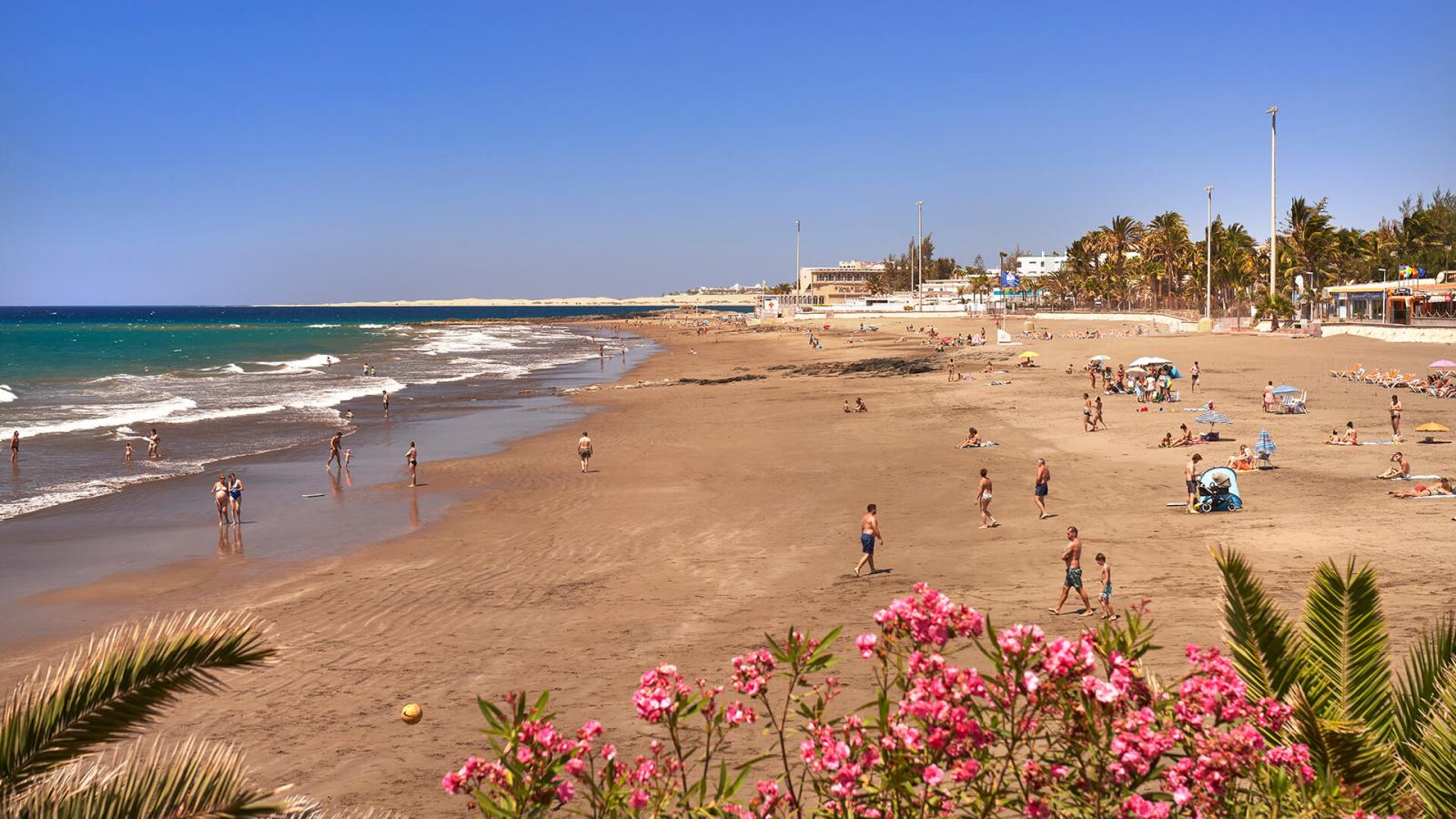 We bring today's ranking to a close with another famous southern beach, Playa de San Agustín. It's a slightly smaller beach than Playa de Maspalomas, which is located on the other side of Playa de las Burras.

This is an urban beach, with magnificent accommodation all around, it's a very family-friendly and has a length of approximately 600 metres.
The only downside to one of these white sand beaches in Gran Canaria is the wind, which tends to blow a little harder, but the calm, crystal-clear waters are the ideal counterbalance to enjoy this beach.
White sand beaches on Gran Canaria: a true paradise
So much for our review of the best white sand beaches in Gran Canaria. As you've been able to see throughout this post, the island is a true paradise when it comes to beaches.
You'll be able to enjoy each one of them at any time of the year, thanks in large part to the wonderful climate of the Canary Islands, giving you the opportunity to swim in each one of them in the winter months.
 
In short, if you want to visit each one of Gran Canaria's beaches with white sand, don't hesitate to spend your days off on the island and enjoy this little piece of paradise in the middle of the Atlantic.
Did you like this article? Share it!