Narrow streets, mostly cobbled and steep, a typical Canarian architecture, cave houses that are practically intact and an unparalleled landscape… that is Agüimes in Gran Canaria.
Agüimes was a very important village during the conquest of Gran Canaria. It was one of the places where most of the population of the south of the island was concentrated. 
Nowadays, it has two main towns; Agüimes and the coastal town of Arinaga.
In this post, we're going to tell you about Agüimes: how to get there, what you can do during your stay and where to eat in one of the most charming villages of the southern region.
 
How to get to Agüimes
Getting to Agüimes is easy: if you're coming from Las Palmas de Gran Canaria, take the GC-1 and take the exit towards Carrizal to join the GC-191 and in about 35 minutes you'll arrive at Agüimes.
 
You can also take line 11 from the San Telmo bus station, which will take you to Agüimes in approximately 1 hour.
 
What to see in Agüimes
When you arrive in Agüimes you'll be able to explore the historic centre in a short time. 
The centre has several metallic statues scattered around its colourful and narrow streets. Here you'll find the well-known statue of the camel, but we recommend that you wander through the streets and discover the other statues as well.
Also, one of its most emblematic buildings is the Church of San Sebastián, with a marked neoclassical style that is very reminiscent of the Cathedral of Santa Ana in Las Palmas de Gran Canaria.
One of the most emblematic places in the village is the Casa de los Camellos (Translated: House of the Camels). It used to be a stable where camels and horses were kept. Nowadays it's a small and charming hotel which you can visit through its interior courtyard. 
Once you've walked through the centre of the village, you can visit one of the main attractions of Agüimes, the Barranco de las Vacas. It's a ravine of coloured tuff that has a certain resemblance to the Grand Canyon in the United States.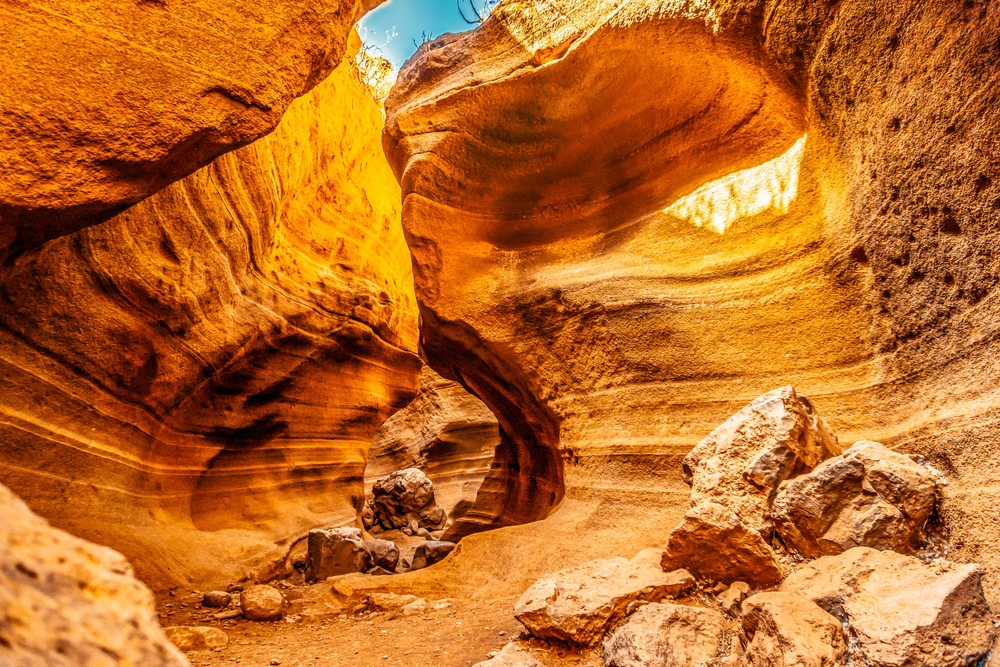 For those who love adventure: from the Barranco de las Vacas there are several trails, the main one is about 15 km long and connects with the Barranco de Guayadeque ravine.
 
The Faro de Agüimes lighthouse is another place you shouldn't miss. Located in the area of Playa de Arinaga, it's not a very busy area for tourists, so you'll be able to enjoy a peaceful time.
 
Right next to it, you'll find one of the best beaches in the south of the island, Playa del Cabrón. This small cove is ideal for snorkelling. Its wild nature is almost intact.
 
Where to eat in Agüimes
One of the best ways to round off your stay in Agüimes in Gran Canaria is to eat in one of its restaurants.
 
Agüimes is characterised by its rich and varied gastronomic offer. We can highlight the cave restaurants Cuevas de Guayadeque, where you can taste the best meats and typical Canarian dishes in unique surroundings.
 
Another place not to be missed in Playa de Arinaga is the Vaquería. It's an old dairy that has become a very famous restaurant in the area. Located just a few metres from the beach, it stands out for its black Canarian pork burger.
 
If you want to visit the island and are looking for an accomodation in Agüimes or in the surrounding areas, you can choose between the villas, flats or cave houses that we have, fully equipped, to enjoy a great experience in the village that has become a real open-air museum.
Did you like this article? Share it!