The Cenobio de Valerón is clear proof of the enormous cultural development that Gran Canaria achieved during the pre-Hispanic period. In fact, on the island you can visit ancient archaeological sites and see cave paintings and burial mounds built on lava.
One of these magical places is to be found in the north of Gran Canaria, in caves that are, in essence, a collective granary of enormous dimensions that the ancient aborigines created to store cereal, the real basis of their diet, as can be seen in one of the culinary delights: gofio.
This is a set of more than 300 hollows drilled more than 800 years ago by stone peaks in the soft rock, connected to each other at different levels of a high escarpment of the Montaña del Gallego mountain.
It's an authentic work of prehistoric engineering worthy of a visit because of its heritage and cultural value, not only for the island but for the whole of the Canary Islands. In addition, the strategic nature of the site made it a real natural fortress, as it was unnoticed from the outside due to its location on an almost vertical mountain wall.
What is a cenobio in Gran Canaria?
According to the Diccionario de la lengua española (Dictionary of the Spanish language) of the Real Academia Española (Royal Spanish Academy), the word cenobio comes from the late Latin coenobĭum, and this from the Bizantine Greek κοινόβιον koinóbion; literally 'life in common', thus monastery.
However, in Gran Canaria this term is linked to a false idea that has been completely discarded today, according to which the silos or chambers of the site were like the rooms of a convent where the young women of the noble class were locked up until they married, under the care of the harimaguadas or priestesses of great social and religious influence.
How to get to the Cenobio de Valerón archaeological site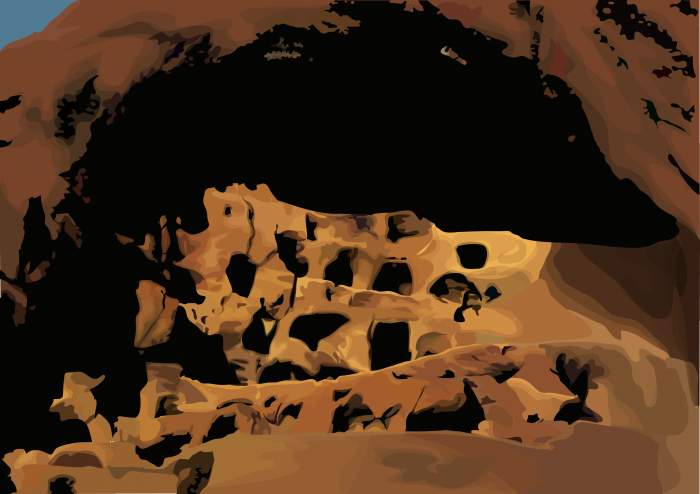 This old grain store is located in the north of Gran Canaria, in the municipality of Santa María de Guía.
Access to the site can be made in either direction from the GC-2 motorway, at exit number 20, which is clearly signposted on the road signs.
Then take the GC-291 and in less than five minutes we will reach the site simply by following the signs.
Useful information
Some important facts about this archaeological site on Gran Canaria are as follows.
Distances and times
From Las Palmas de Gran Canaria: 22 km (30 minutes)
From Maspalomas: 77 km (1 hour)
From Puerto de Mogán: 98 km (1 hour and 20 minutes)
Opening hours
Winter opening hours (October to March): Tuesday to Sunday from 10:00 to 17:00.
Summer opening hours (April to September): Tuesday to Sunday from 10:00 to 18:00.
IMPORTANT: Temporarily closed due to COVID-19.
Price
General price: 3 €.
Reduced price*: 2 € (school groups, except local school; groups of over 10 people with prior appointment; children between the ages of 10 and 14; student card holders; and people over 65 years old.
Special free entry for educational groups from the municipality with prior appointment; tourist guides and teachers accompanying groups; and children under 10; people with functional diversity.
Combo 5 € including a visit to Maipés de Agaete included.
Combo 10 € including a visit to Maipés de Agaete, Necrópolis de Arteara and Cañada de Los Gatos.
*To qualify for the reduced fee, visitors must show all the appropriate documentation.
Guided tours, activities and workshops are available to school groups or private groups of over 10 individuals.
Guided tours have to be requested by prior appointment.
Address
Cuesta de Silva, s/n, 35450, Santa María de Guía, Las Palmas, España
Phone
(+34) 618 607 896
Email
museosyarqueologia@arqueocanaria.com
Web
http://www.arqueologiacanaria.com/Arqueologia_Canaria/Cenobio_de_Valeron.html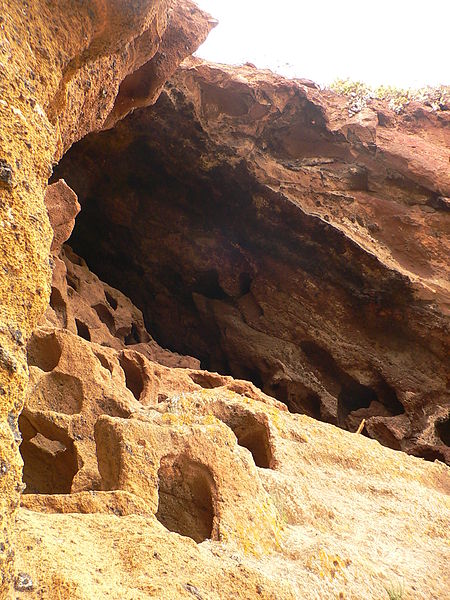 Cenobio de Valerón Sources
Did you like this article? Share it!