To swim in the cool waters of the Atlantic Ocean in complete harmony with the environment and with spectacular views of Mount Teide is a unique sensation. We're going to tell you how to get to Güigüi beach, so that you can experience it first-hand.
But first things first. Güigüi is located in the municipality of La Aldea de San Nicolás, straddling the coastline that runs from the beach of Tasartico to the beach of La Aldea.
Güigüi is a landscape of eroded and aged surface. It's a legendary and ancient place with a unique flora and fauna. Its forms, shaped by nature, have left traces of great depth and infinite beauty in this part of Gran Canaria.
How to get to Playa de Güigüi 
Nowadays, there are almost no virgin beaches in Gran Canaria, but Güigüi is one of them. Well, it's sectioned into two beaches: the Chica and the Grande, both located at the respective mouths of the watersheds known by the same names.
In Güigüi you can swim in an impressive and very special environment, since it was declared Special Natural Reserve and Area of Ecological Sensitivity by the Government of the Canary Islands for its special characteristics, without any type of construction and almost no people around.
How to get to the beach Playa de Güigüí on foot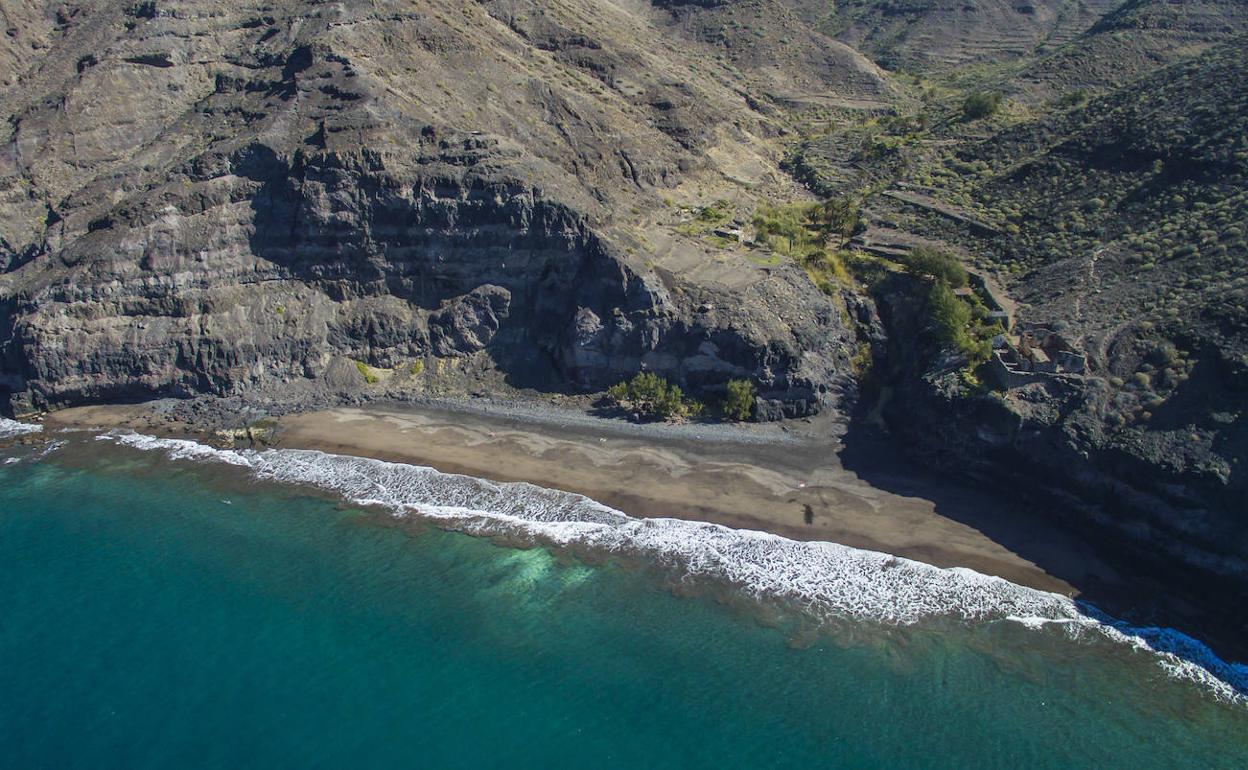 The complicated access to Güigüi is the biggest challenge for those who want to spend a few special days in this wonderful place. To get to Güigüi on foot you have to sweat, have patience and, above all, be prepared for a long hiking route.
First you have to go by car or bus to the small village of Tasartico, located about an hour and a half from Las Palmas de Gran Canaria. When you arrive in Tasartico you have to follow a dirt road until you reach a sign indicating the length of the route: about 5 kilometres one way and about 5 kilometres return. The route is well waymarked, so you shouldn't get lost.
The duration of the trail will vary depending on your physical condition, how loaded you are (since in Güigüi there's no place to buy things, you'll have to bring everything yourself), the time you start the trail (it's advisable to leave early to avoid the hottest hours of the day and carry plenty of water), etc.
How to get to the beach Playa de Güigüi by boat
This is, without a doubt, the ultimate solution if you don't want to make the journey on foot. Thus, from any of the nearest ports (La Aldea, Mogán, Puerto Rico or Arguineguín) you can hire an excursion company or negotiate personally with a fisherman, so he can bring you to Güigüi with his boat and return a few days later.
Even if you choose this alternative, make sure to bring extra provisions, since in bad weather it'll be difficult for the boats to arrive, which has happened before. Regardless of the option selected, spending a few days in this paradise is a unique experience.
Watching the sunset on top of a dune with Mount Teide in the background, waking up to the sound of birds at dawn and taking a refreshing swim in crystal-clear waters is priceless. And by the way, Güigüi is divided into two sections, so to go from one to another you have to take into account the tides.
Now that you know how to get to the beach Playa de Güigüi... are you ready to visit the wildest side of the island of Gran Canaria?
Did you like this article? Share it!