Maspalomas, in the south of Gran Canaria, has established itself as one of the most popular gay paradises in Europe. It's the so-called "Miami Beach of Europe" and a "must" for anyone who wants to enjoy the eternal spring all year round just a few hours' flight from the main cities of the old continent. In fact, the island attracts tourists from a thousand places in Europe who want to enjoy temperatures ranging from 18 to 25 degrees throughout the year.
Gran Canaria is a safe destination, where respect and tolerance allow for the harmonious coexistence of residents and visitors. The tourist area par excellence, Maspalomas, is the living proof, as dozens of different nationalities live and work here, to which we should add almost four million tourists who visit it every year, among which we can visibly see the gay segment, considered to be one of the most appreciated potentials of this destination.
Open minds all over Europe found in Maspalomas respect and beauty without limits, largely due to the attitude of its inhabitants from Gran Canaria with the motto "live and let live". That's why it's a place where the LGTB public feels truly at home, especially when one of the most popular events in the community is held: the Maspalomas Gay Pride.

Where is Maspalomas Gay Pride held
The  Gay Pride is celebrated in the Yumbo Shopping Centre in Playa del Inglés and has more than 200 premises, being considered throughout Europe as one of the main points for gay nightlife.
During the day, this shopping centre is a popular place to look for good bargains and buy in some of its shops specially adapted for the LGBT community.
And when the night comes, it becomes the main attraction of Playa del Inglés' gay nightlife. But first you'll need some energy. The good weather allows you to have outdoor dinners and sit on some terrace, among tourists of all possible nationalities.

When is Maspalomas Gay Pride celebrated
This spectacular event is celebrated every year during the month of May. Thus, the dates for the 2021 edition will be between 6 - 16 May, 2021.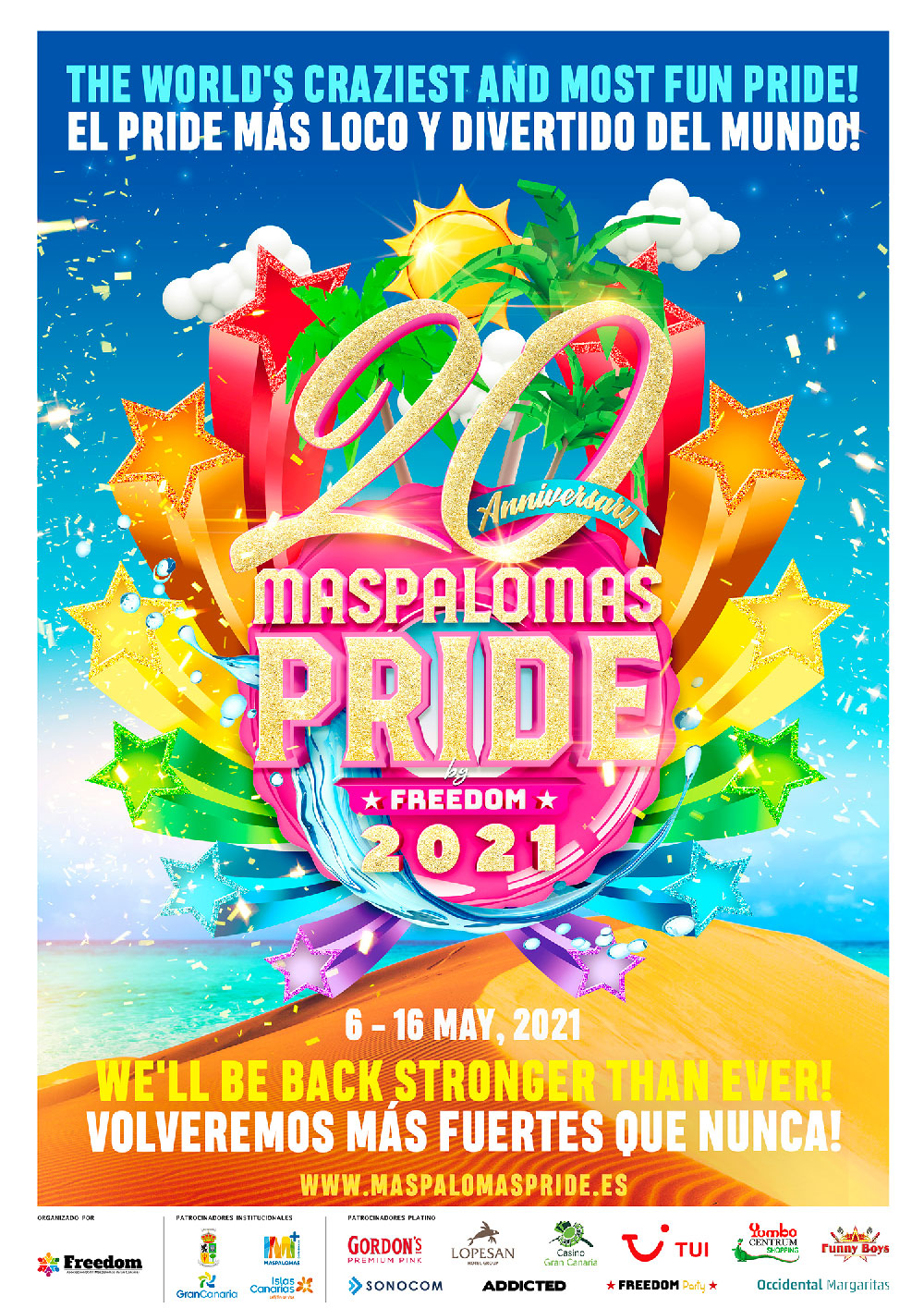 Maspalomas Gay Pride activities
There is a wide range of daytime and nighttime leisure activities on offer in the tourist area of Maspalomas, which is spread out over an infinite number of terraces, bars, pubs and clubs where fun and music, together with a liberal atmosphere, mean that "the rhythm never stops" is another of the island's great attractions.
The event always aims to contribute to creating an atmosphere of fraternity and security during the eleven days, where anyone can feel as they are without fear of being discriminated against. In short, to be an example of tolerance and integration.
Every day is full of surprises for all those who come to enjoy the Gay Pride. Free concerts in the, parties, excursions, pool parties, shows, drag queens... and the great event - the Big Parade with many floats and the participation of thousands of people.
Where to stay during Maspalomas Gay Pride
Gran Canaria's accommodation offer is as varied as the wonderfully changing landscapes on the island. You can find an endless number of hotels, bungalows and flats, which are proud to call themselves gay-friendly, both on the coast and in central areas of the island, in the green and mountainous interior, offering a wide range of exclusive gay accommodation.
If what you're looking for is a rest between parties, as well as privacy, in VillaGranCanaria we have just the accommodation you need. We highlight our great selection of luxury villas, three that will surprise you so much that you will never want to leave the island, especially because the enclaves in which our villas are located are residential. Parties and excessive noise are totally forbidden, so to enjoy the peace and quiet you can rely on our tourist accommodation and villas.
Maspalomas, the great gay tourism destination in Europe
How has Maspalomas become one of the biggest gay destinations in Europe? Perhaps it is because the island offers what a tourist normally looks for, together with a "live and let live" attitude that makes Gran Canaria's people open and affectionate. Come and enjoy the Maspalomas Gay Pride and have the time of your life in Gran Canaria!
Pictures from Gran Canaria Tourist Board and Maspalomas Pride.
Did you like this article? Share it!