That Gran Canaria is a true sun and beach paradise is beyond doubt. However, beyond the famous beaches of Las Canteras, Maspalomas or Playa del Inglés, there is a whole series of lesser-known coastal jewels such as Patalavaca Beach in Gran Canaria.
Where is Patalavaca Beach in Gran Canaria?
Gran Canaria has approximately 60 kilometres of beaches of all types. On the northern side of the island they are of stone or black sand and tend to be wilder, while on the southern side most of them are of blond sand, such as Patalavaca.
 
This small beach is located in the south-southwest of Gran Canaria, specifically in the municipality of Mogán, halfway between Arguineguín and Anfi del Mar. In fact, you can walk to Patalavaca from either of them in just a few minutes.
How to get to Patalavaca Beach
Desde el aeropuerto de Gran Canaria (LPA), ubicado a unos 43,5 kilómetros de distancia, se puede llegar a Patalavaca de varias maneras, si bien las más habituales son las siguientes: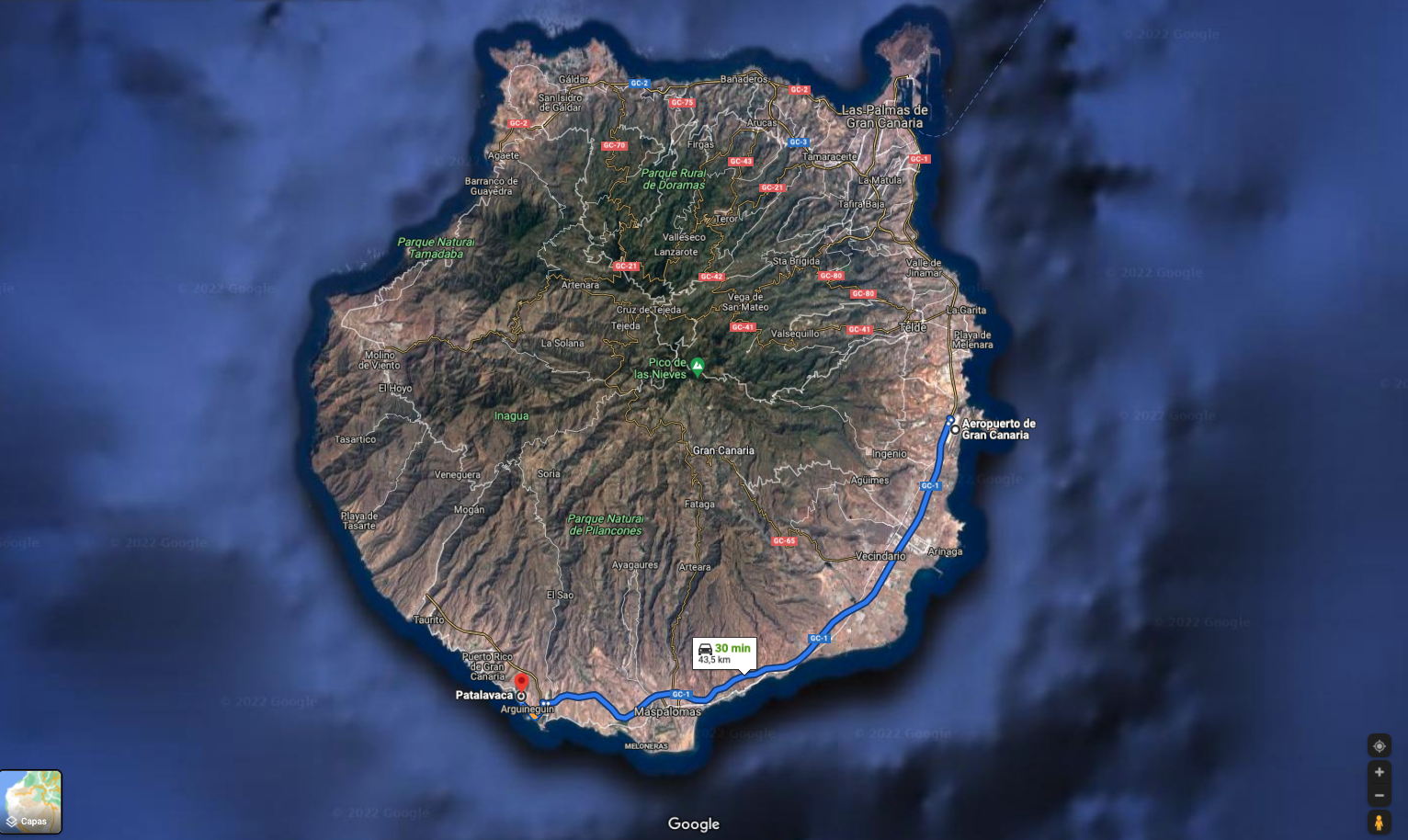 By car
First we join the GC-1, the main motorway of the island, and drive southbound until exit 56 to take the GC-500 and cross the village of Arguineguín.
 
At the third roundabout after passing the Patalavaca sign, take the first exit and then turn first left and then right, where you can park. From here it is about 100 metres on foot to the beach.
By bus
Line 91 (Las Palmas de Gran Canaria-Puerto de Mogán) of the bus company Global stops at the airport and then continues directly to the municipality of Mogán, stopping in Patalavaca after approximately 30 minutes. The single ticket costs 5.25€.
Patalavaca weather
Did you know that the municipality of Mogán has been classified as the place in Europe with the most clear days per year? The weather in Patalavaca is always pleasant, inviting you to sunbathe and relax by the sea, even in the middle of winter with an average temperature of more than 20 ºC.
Patalavaca webcam
If you want to see how Patalavaca Beach is right now, below is a live camera.
Where to stay in Patalavaca
This is a destination that is well worth experiencing first-hand. That's why at VillaGranCanaria we have two exclusive accommodations in the area.
 
The first one, Apartament Don Paco JC309, is located right on the beach in Patalavaca, so you can enjoy the beach at any time of the day. It is an elegant designer flat with capacity for two people.
The second one, Apartament MG/JM Arguineguín, is located in Arguineguín, just a few minutes walk from Patalavaca. It is a wonderful three-bedroom holiday home with stunning sea views.
 
As you have seen, Patalavaca Beach in Gran Canaria is a unique place where one thing is 100% guaranteed: good weather 365 days a year.
Did you like this article? Share it!