Salobre Hotel  Resort & Serenity  Services Without doubt one of the best features of the resort is Hotel Sheraton Salobre Golf & Spa, a modern building with exquisite interior design and seamlessly integrated into the spectacular landscape. We highly recommend the SPA and its beauty treatments, not to mention the state-of-the-art gym. Buffet Restaurant is highly recommended as well for its reasonable prices and good quality.
Check-in at Salobre Hotel Resort & Serenity
6 swimming pools
Solarium IMPERIAL
SPA & Wellness Center
Fitness Center
Viewpoint – Solarium- SPA
5 Restaurants
4 Bars
Parking, meeting rooms, conference rooms
Internet, tv room, business centre
We highly recommend that you spend at least one day in this wonderful hotel to take advantage of its facilities, without doubt a perfect complement to our exclusive villas available at Villa GranCanaria.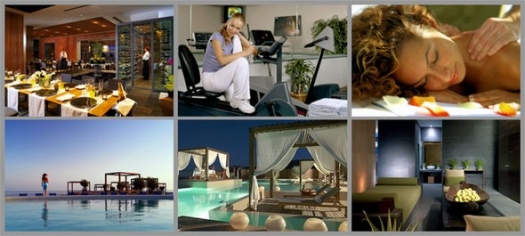 Our clients, PREVIOUS AVAILABILITY, can enjoy their facilities, after registration and payment of a small daily or full weekly fee, with which to make use and enjoy all the wonderful facilities and services offered by this wonderful Hotel. Thus, for a price of 50.- € / Day and Person (children up to 12 years old do not pay) and always AVAILABLE, we will enjoy an EXCLUSIVE deal receiving the VIP card, with which you can enjoy all your POOLS, towels and hammocks , changing rooms, gym and parking.
We recommend you of course not to stop visiting the SPA and experience its beauty treatments, without forgetting the incredible gym. Both the buffet and the restaurant (there are several) are ideal after a relaxing session of SPA or intense training in the gym.
Once registered at the hotel reception, the customer receives an access card to the facilities. This allows the visitor to make use of the facilities and facilities of the hotel. A brilliant solution for our last day if we have a late flight and we have no chance to leave the Villa later, what better to spend the last hours in this wonder of Hotel and end with a shower before leaving for the airport.
Did you like this article? Share it!