Are you in the highlands of Gran Canaria and you don't know which
things to see in Tejeda
? This has been considered one of the most beautiful villages in Spain for years, not only due to its beautiful landscapes but also for its local gastronomy and the charm of its people. After discovering the best things to do in Mogan, today's Villa Gran Canaria's blog will cover everything about this unique spot.
Tejeda is located in the center of the island above 1,000 meters above sea level. It is surrounded by the Roque Bentayga and the Roque Nublo (huge) rock formations. The area has plenty of deep and large ravines with fresh oasis and small neighborhoods in the mountains.
It's perfect situation makes Tejeda the perfect place to contemplate lots of stunning views, such as those of the Artenara or La Aldea de San Nicolás valleys. As a matter of fact, the Teide (the highest peak in Spain with 3,718 meters located in the adjacent island of Tenerife) can be perfectly seen in clear days.
In addition, if you're a nature lover you're luck. The reason? Tejeda is well known for the zigzagging roads and endless paths (known locally as caminos reales) that lead to it, making it the perfect place for hikers and cyclists.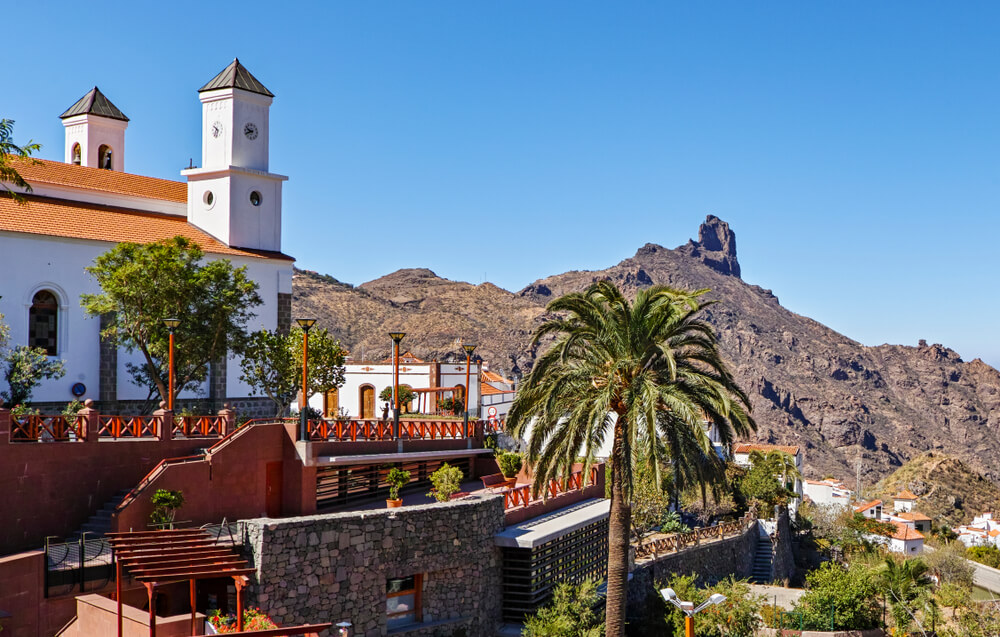 5 things to see in Tejeda
Tejeda is one of the largest municipalities in Gran Canaria. Therefore, if you've think that you can watch everything in one day… you're completely wrong! Indeed, Tejeda has plenty to offer. Did you know that the village is home to one of the most amazing swimming pools in Gran Canaria?
But, if you get away from the old quarter you'll discover many hidden corners that will leave you speechless. Wouldn't you like to breath the purest air while sipping a coffee (try the local leche y leche if you're into sweet) with views to the astonishing ravines nearby?
1. Roque Bentayga
The Roque Bentayga is a true natural symbol not only for Tejeda, but also for Gran Canaria. Indeed, it's one of the most iconic spots on the island. It was a sacred place for the ancient Canarian aborigines, as they used its pits, caves and engraved rocks to worship their deities.
To enjoy all of this, visitors can count with the help of the the Visitors Center, which the Cabildo de Gran Canaria Island Government has restored, at the foot of the Roque Bentayga.
This museographical exhibition uncovers the most important culture and rites of prehispanic times, right next to this unique spot, which, as previously said, still guards the sites for worship, burial and cave art of the island's first inhabitants.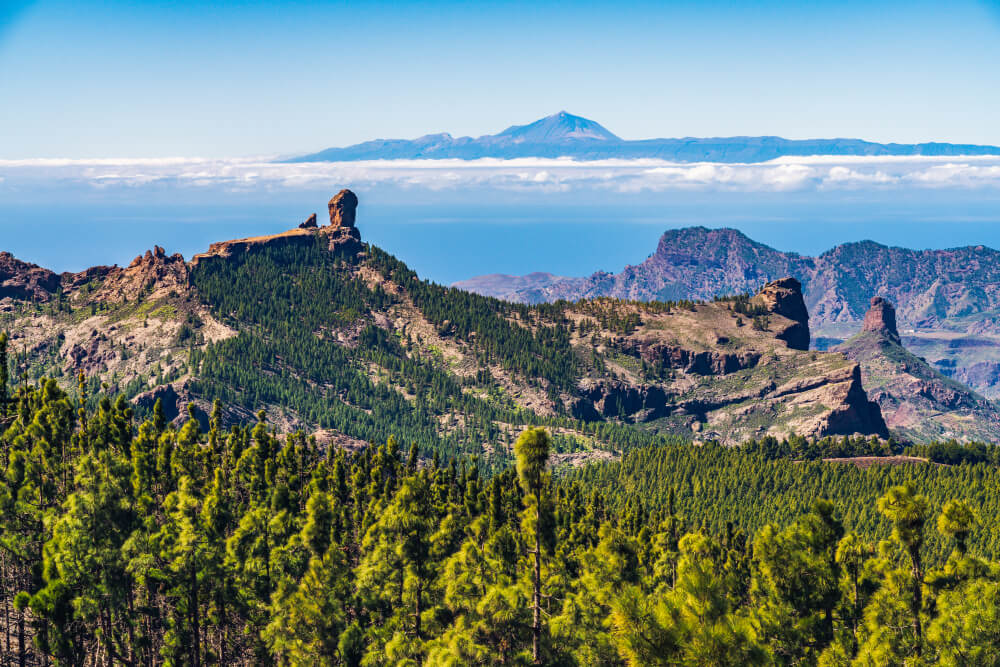 2. Roque Nublo
Of course, the Roque Nublo is one of the best
things to see in Tejeda
. The most iconic landmark of Gran Canaria, along with the famous Maspalomas Dunes, is located at the top of the island, right in the municipality of Tejeda.
This huge monolith is near ninety meter high, and is a proud memento from a dim and distant past. It has inspired all kinds of artists such as painters, writers and composers, and has appeared in a multitude of works.
Agustín Millares, Canarian historian from the late 19th century, described it as "hysterical land movements, horrendous detonations in the air, thick clouds of burning sand that darkened the atmosphere, liquid streams of molten lava criss-crossing in all directions, titanic wrenching of the earth…".
3. Cruz de Tejeda
A recommended visit while going to Tejeda is this well known place. As soon as you arrive, you'll see the stone cross that watches all visitors. In addition, there is one of the best rural hotels in Gran Canaria, the Parador de Cruz de Tejeda, with its spectacular restaurant, rooms and spa.
Just a few meters from the parador you'll find many stands with crafts and local products almost permanently. Don't leave without trying the amazing sweets like the delightful Tejeda marzipan and buying some handmade souvenirs made with natural products. Also, you can take a walk with the famous local donkey.
4. Our Lady of the Succour Church
Another of the must
things to see in Tejeda
is paying a visit to the Our Lady of the Succour Church, a temple built in 1921 with a rectangular plant divided in three large naves with windows that allow the entrance of a great deal of light.
Many believers come to this sacred place in order to venerate one of the most striking elements of any religious building in Gran Canaria – its altarpiece with a wooden carving representing the Blood of Christ.
5. Old quarter
Last but not least, it's essential to visit Tejeda's old quarter where you can admire the picturesque small houses of the municipality with views to the Roque Bentayga.
It's almost mandatory to buy a souvenir at its craft shops and to have a typical sweets like almonds filled with nougat or the unique chocolate palmeras at its pastry shops.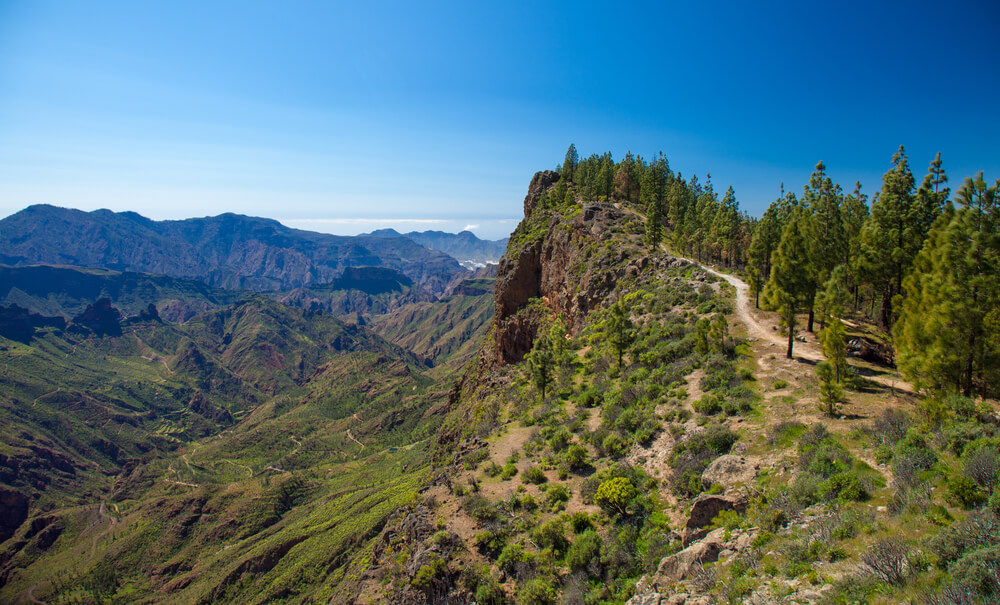 A unique village
Tejeda has a lot to offer, as it is a municipality that suits all kinds of visitors. What are you waiting for to discover its rich archaeological heritage, its tasty gastronomy or the magnificent nature that surrounds it?
In short, Tejeda is a village that offers tradition, history and nature in equal parts. Here you can enjoy a unique environment on an island with stunning landscapes that will leave you speechless. Come and enjoy the best
things to see in Tejeda
.
Did you like this article? Share it!