Turquoise water that sparkles like thousands of diamonds. A gentle bay, with warm, soft, white sand. In the distance, boats pass by and seagulls circle above the water. No hustle and bustle, no stress… just pure enjoyment and relaxation. That is Playa de Amadores.
If you want to escape the stresses of everyday life and find complete relaxation, then you have found the perfect beach on Gran Canaria in Amadores. Embark on a journey and let yourself be enchanted by the beauty and tranquillity of this unique place.
What makes Amadores so special?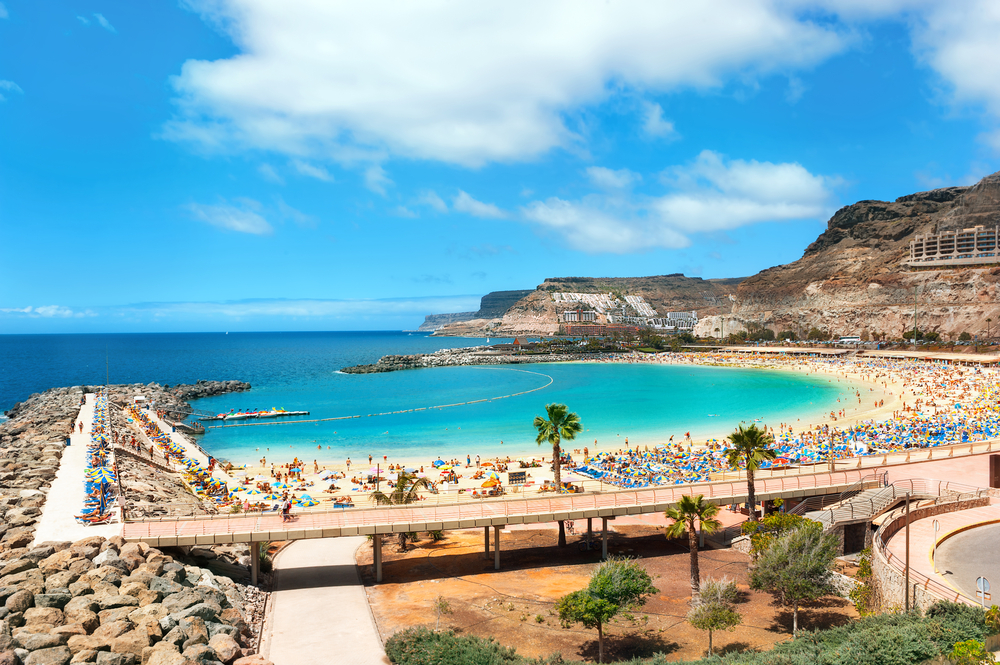 Playa de Amadores (The Lovers' Beach in Spanish) is a man-made beach with a 1-kilometre-long promenade connected to the tourist resort of Puerto Rico. It's located in a "U" shaped bay surrounded by hotel and apartment complexes. 
It's a quiet and idyllic beach with calm waters and no waves, as it's protected by two dikes, making it a very popular holiday destination for families with children. Not only that, but it has been awarded the Blue Flag by the Institute of Environmental Education since 2004, recognising its water quality and environmental standards.
Amadores was created to provide relaxation under the sun. Float peacefully on an air mattress in crystal-clear waters, or relax undisturbed on a sun lounger. And don't miss the breathtaking sunset and watch the sun slowly hide behind the neighbouring island of Tenerife.
Services
Sun loungers and umbrellas to hire
Parking
Restaurants and a shopping centre by the sea
Accessible for people with reduced mobility
Showers
Toilets (for 0,60€)
Where is Amadores and how to get to the beach?
Amadores is located in the southwest of the island, between Puerto Rico and Tauro. Here is the exact location:
To get to Amadores by car, just follow the GC-1 and then take the GC-500 to Puerto Rico. The beach is well signposted.
If you're travelling by public transport such as bus, you can take the 01, 09, 33, 39, 70, 90, 91 and 321 from the Guaguas Global company, which all stop at Amadores.
What to do at Amadores Beach
Amadores is ideal for swimming and relaxing. If you want to spice up your day with activities, you can go to the nearby Puerto Rico beach for activities such as water skiing, pedal boat rides, dolphin watching, boat or motorboat rides, paragliding, etc.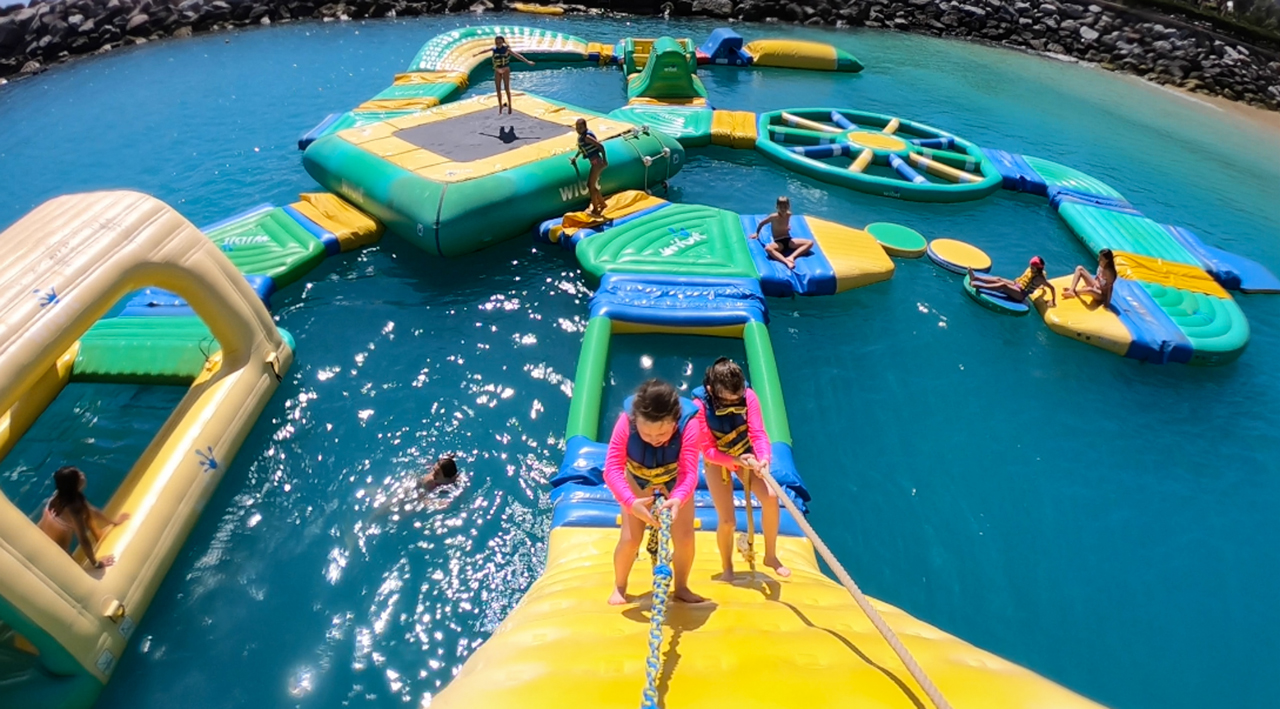 In Amadores itself, there are plenty of restaurants and bars right by the sea. You'll also find small grocery shops here. There's also a bar with a mini-golf course, pool, and spa where you can treat yourself to some real time out. And in the evening, you can enjoy the view of the sandy beach and the sea while listening to hip music.
For the family, there's pedal boat hire and a water playground with bouncy castles and mats in the sea.
Accommodation near Amadores
Those who enjoy visiting the beaches of Gran Canaria particularly enjoy holiday rentals directly on the beach. For one thing, it gives you direct access to the beach without having to walk or drive long distances. 
You can always go for a spontaneous swim or take a leisurely stroll along the beach. In addition, such a location often offers a dreamlike view of the sea and the beach, which guarantees a relaxing and restful holiday. 
In addition, beach rentals are usually well equipped and offer plenty of space, so that you can feel comfortable all around. With a holiday rental in Puerto Rico, you are in the direct vicinity of Amadores.
A quiet beach on the east coast of Gran Canaria
Amadores, with its white sand, is one of the most beautiful beaches on Gran Canaria. The beach is only a 20-minute walk from Puerto Rico and has many amenities nearby. Thanks to its quiet location and atmosphere, it's a very popular resort, especially for families with young children. The shallow waters offer safety and relaxation.
Did you like this article? Share it!