The jewel in the crown of Las Palmas de Gran Canaria, its flag and its pride, is Playa de Las Canteras. Considered one of the best urban beaches in Europe, it's a paradise that hides a marine diversity that few places in the world have. However, just a few metres away is the city's best kept treasure, Playa del Confital.
 
Very few people who visit the city each year go to discover what lies beyond La Puntilla. Many times they stay there, contemplating the spectacular views of the whole city, they miss the wildest and most natural side of Las Palmas de Gran Canaria.
At VillaGranCanaria, we don't want you to miss out on this spectacle of nature, so in this post we're going to highlight this wonderful area of Las Palmas de Gran Canaria, offering you the best plans to enjoy it and all its accesses.
Playa del Confital: the wild side of Las Palmas de Gran Canaria
Playa del Confital and its bay is a very special area within the city's surroundings and is considered a Special Area of Conservation. 
 
It's located between the neighbourhoods of La Isleta and Las Coloradas and until 2004, the area was populated by illegal huts, very famous in the city, where people with few resources lived.
Once the area was cleared, the rehabilitation work began with the construction of a beautiful promenade that runs along the beach and the surrounding area from one side to the other, made of wooden planks that make the area more accessible on foot.
The main characteristic of Playa del Confital is its tranquillity, which is perfectly complemented by the times when there are strong waves. Therefore, El Confital is the perfect beach for lovers of good surfing and serenity.
El Confital is an extensive bay that can be divided into 3 different parts. It has only one access road and ends where the fences that delimit the area with the military part are.
 
The beach itself is composed of volcanic sand and rocks, with a maximum extension of 180 metres long and 25 metres wide.
What to do in Playa del Confital
Playa del Confital beach stands out for its versatility when it comes to enjoying it and its surroundings. It's frequented almost 100% by local people from the neighbourhoods of La Isleta and Las Coloradas, being the main meeting point for families and friends at weekends.
 
On weekdays, it's a very quiet place with little traffic, ideal for contemplating the best views of the whole city while you take a pleasant stroll with a magnificent sunset.
 
On the Confital Beach itself, if you're a fan of water sports, you can enjoy one of the island's star sports, surfing and bodyboarding. In fact, world bodyboarding championships have been held on the famous and well-known beach Las Monjas.
 
On the other hand, as we've already mentioned, the beach has a wooden walkway that's suitable for walking and strolling around. 
 
If you've got an adventurous spirit, you like walking and discovering places, or you're a fan of trail running, you're in a unique spot in the city. You can walk from one side of the beach to the other, bordering the mountains until you reach the famous cross, where you'll find spectacular views of Confital and the whole city.
 
It's also an ideal place for MTB lovers. The best route is to follow the upper, technically advanced trail and finish at the end of the track, where you'll come across the military fences. 
 
This is a short route, around the entire of Playa del Confital, approximately 10 kilometres long, with great scenic beauty and technical sections that'll delight cycling enthusiasts.
 
Finally, we'd like to recommend one of the best moments of the day in Playa del Confital, its sunsets. You can't leave this place without seeing at least one with a unique panoramic view of the entire coastline of the capital.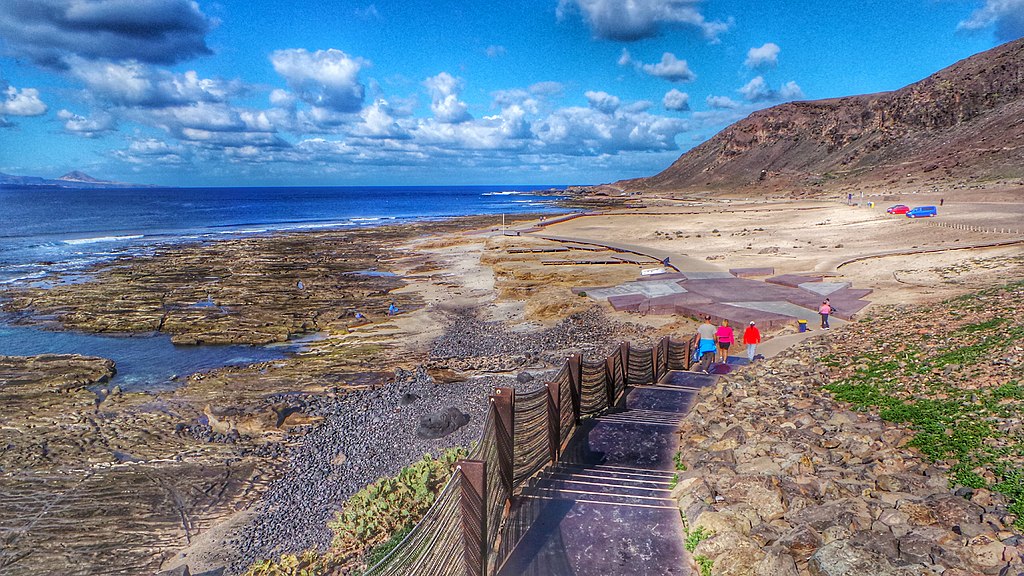 How to get to Playa del Confital
Getting to the beach is easy. You can reach it on foot from the Las Canteras promenade, a pleasant walk that takes about 20 minutes.
 
If, on the other hand, you prefer to travel in your own vehicle, you can do so. All you have to do is get to the popular neighbourhood of La Isleta and access the beach by a dirt road. With regard to the latter, you should know that the road is currently in good condition, and you can drive along it without any problems.
 
When you get to the Confital area, you won't find a car park like at other beaches, here you'll find a fairly large esplanade where you can leave your vehicle without any difficulties.
 
If you don't feel like walking a long way or taking your car to Confital Beach, there's always the option of public transport. In this respect, you can take the bus line 41 from Parque Santa Catalina and get off at La Isleta, at the Cruce de Las Coloradas stop and walk a few metres to get to the beach.
Beach Confital: the treasure of Las Palmas de Gran Canaria
As you've been able to see, Playa del Confital is a real jewel of nature in the heart of the city of Las Palmas de Gran Canaria. A place that can often be unknown to many tourists and even to people who live on the island.
Frequently overshadowed by the flagship and tourist icon of the city, Playa de Las Canteras, in recent years Confital has begun to reclaim its place as an alternative to enjoy a day at the beach and sports in an incomparable natural setting.
 
In short, if you want to feel nature in the heart of the city, to discover the wonderful landscapes that this hidden area of Las Palmas de Gran Canaria has to offer, don't hesitate to come to Playa del Confital.
Did you like this article? Share it!