Gran Canaria stands out mainly for being an island with very marked contrasts in terms of landscapes. You can be on the beach, sunbathing and swimming, and just 45 minutes away you can be hiking on the Roque Nublo. However, apart from the best known and busiest places on the island, there's a hidden gem: the beach playa de Guayedra.
 
It's one of the most beautiful landscapes you can find in the north of the island, thanks to its great geological and archaeological value, as well as its rich and varied flora and fauna. All of this leads to Guayedra Beach, a small, pretty cove where you can contemplate the best sunsets on the whole island.
 
If you'd like to know a little more about its history, where it's located and how to get there, keep reading because you'll discover one of the most beautiful, wildest and most secluded spots in Gran Canaria.
Playa de Guayedra
This hidden paradise in the north of Gran Canaria is located in the municipality of Agaete, just 30 minutes from Las Palmas de Gran Canaria. 
It's located within the Tamadaba Natural Park, just below you'll be able to contemplate a majestic and steep cliff where the Guayedra Beach is born.
From here you'll be able to enjoy general views of Puerto de Las Nieves to the right and to the left you can see the "mythical dragon's tail" (mítica cola de dragón) belonging to the municipality of Aldea de San Nicolás.
Located at the mouth of the Barranco de Guayedra ravine, if you're lucky and the weather allows it, you can enjoy privileged views of the island of Tenerife and its Mount Teide. 
 
It's a small beach, combining dark sand and stone, approximately 200 metres long and 48 metres wide, so we could consider it a cove of great geological value, made up of palm trees and volcanic rock, which adds value to Playa de Guayedra. 
 
If you have the chance to see a sunset from the beach and have the highest peak of Spain in the background, you'll be witnessing one of the most marvellous events in Gran Canaria.
What to do in Guayedra
Guayedra is a place that is much more than just a beach where you can spend a pleasant day sunbathing. It's a very versatile area, where you can go hiking in the surrounding area and discover the beauty of its flora and fauna.
 
It's also a place that, thanks to its crystal-clear waters and when the weather permits, makes it an ideal spot for snorkelling and observing its beautiful seabed.
 
However, you should be careful because it's a beach that, being open to the sea, has strong waves because of the wind, which is present many days of the year. Be especially careful when swimming there.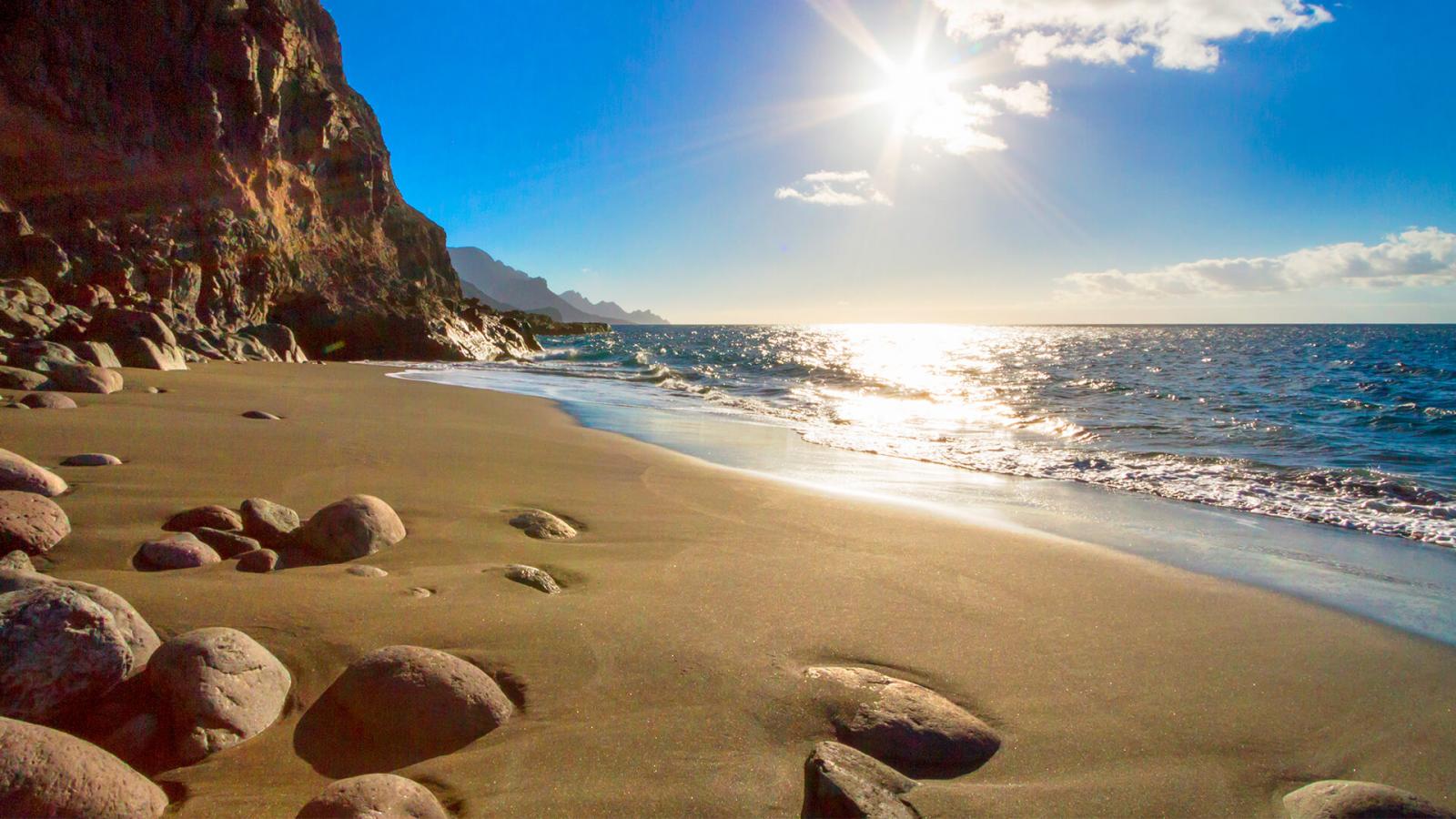 Our recommendation is that, if you can, you visit the beach at low tide, as its waters will be calmer and there won't be so much wind, so you can enjoy a relaxing swim.
This beach also has an area that is suitable for nudists to be in full contact with nature. 
Another of the great attractions of Playa de Guayedra, which many people are completely unaware of and which you cannot miss, is to visit one of the largest sunflower fields in the Canary Islands, located in the middle of the ravine. 
 
With more than 3,000 square metres of sunflowers, they turn the beautiful spot yellow for about 15 days, providing shelter and food for the bees that thrive in their 60 hives.
How to get to Guayedra Beach
To get to Guayedra you can easily get there by car from Las Palmas de Gran Canaria taking the GC-2, and in about 30 minutes you'll be in Agaete. 
 
Once you reach the village, take the GC-200, which is the road that connects the municipalities of Agaete and La Aldea de San Nicolás, and in 15 minutes you'll have reached Guayedra.
 
To get directly to the beach, you have to walk about 1 kilometre. The first 700 metres can be done with your vehicle and the remaining 300 metres you have to do on foot, enjoying a pleasant walk contemplating the surroundings of Guayedra. 
Guayedra Beach: Gran Canaria's best-kept secret
Gran Canaria is an island with the best beaches in the Canary Islands. We all know its great attractions: Playa del Inglés, Maspalomas, Playa de San Agustín or Amadores, but there's undoubtedly much more beyond all these great beaches.
If you're curious to discover more than these great beaches and to explore unique places, the best thing to do is to take a car and drive around the north of the island. There, you'll be able to enjoy wild and very little-travelled places that have maintained their purity over the years.
 
Guayedra is such a place. It's an ideal beach to escape from the overcrowded beaches of the south, enjoy a day out with friends, family or your partner and contemplate the beauty that this little secret of Agaete has to offer.
 
In short, we invite you to take a stroll through the island's fishing village par excellence, and take a short hop to this marvellous Playa de Guayedra, which will surely steal your heart.
Did you like this article? Share it!