Nature is one of the main tourist attractions of Gran Canaria. Its unspoilt and wild beaches that can be found both in the north and the south, or walking through its pine and laurel forests thanks to the numerous trails that surround them, is a big plus for the island and attract hundreds of tourists every year. However, there's another way to get in touch with nature and animals. Palmitos Park in Gran Canaria is a place reserved for their preservation and care.
 
Palmitos Park is one of the most important and veteran enclaves of the island in general and of Maspalomas in particular. It was founded in 1978 and was completely renovated in 2008 to become a botanical and zoological park.
 
The number of people who visit it increases every year thanks to the popularity it has been gaining in terms of ratings on portals such as TripAdvisor, recommendations among people in forums or with the traditional "word of mouth".
 
With this being said, we'd like to bring you a little closer to this natural space, with the firm intention that you can visit it during your stay on the island. As you'll see, Palmitos Park is an option to take into account if you want to enjoy a day surrounded by nature in the company of your family.
Palmitos Park Maspalomas: a natural environment for leisure and entertainment
Palmitos Park Maspalomas is located in an ideal setting, in the middle of a ravine, flanked by mountains that allow you to become totally immersed in the environment and enjoy the experience to the full.
Getting to Palmitos Park Gran Canaria isn't very complicated. By car, take the GC-1 and exit 46. Then, take the road that leads to Aqualand Maspalomas, as it's the same road to get to Palmitos Park, the GC-503. From there, keep following the signs.
The zoo is open 356 days a year, from 10:00 to 17:00. Tickets at Palmitos Park to enjoy the whole day range from 31 euros for adults, 22 euros for children between 5 and 10 years old and the mini, for children between 3 and 4 years old which costs 11 euros.
Similarly, to get the full experience, throughout the park you'll find information panels that allow you to access knowledge and bring visitors a little closer to the animals they're seeing at that moment.

1. Enjoy the company of dolphins
One of the park's star activities. Paying a little more than usual for a ticket, you'll be able to enjoy approximately 30 minutes of a unique experience, swimming with dolphins, one of the most exciting mammals.
 
Our recommendation is that, if you want to swim with dolphins at Palmitos Park Gran Canaria, you should book it as soon as you enter the park, as there's a high demand, and it's subject to availability.
2. The Zoo
The zoo enclosure is one of the most important in the zoo. It's the largest in the Canary Islands and is one of the island's major attractions for exploring an idyllic natural environment.
 
Keep reading, because you'll be able to discover the most fundamental areas of the environment. In this case, there are 4 large, well-differentiated areas, where you can find lots of different animals.
 
Birds: in the zoo you'll find some aviaries where some of the most exotic birds in the world live. You'll be able to see species of parrots, flamingos, toucans and Australian emus up close.
Reptiles: there's an enclosure dedicated to the most spectacular species of reptiles and lizards. Here you can meet the Komodo dragon, turtles from Australia or the giant lizard of Gran Canaria.
Mammals: the most popular enclosure and the one with the largest number of visitors. Discover fascinating species such as the Meerkats, the Aardvark or the Gibbon.
Aquarium: home to the world's most exotic fish, such as clownfish and seahorses. An aquarium that reinforces its potential and its commitment to variety, including venomous fish such as the surgeon fish or the scorpion fish.
3. The gardens and natural surroundings
When you've visited each one of the areas that Palmitos Park Gran Canaria has to offer, you can visit the gardens in the wonderful Orchid House, where you can discover the largest collection of orchids on the island.
 
Another section of the gardens is the cactus garden. Ideal for all lovers of this plant, there are numerous species, where you can find some that measure up to 4 metres in height.
One of the areas of the gardens that arouses most curiosity among visitors is the butterfly house. Here you'll find a wide variety of butterfly species, making it the largest butterfly garden in Europe.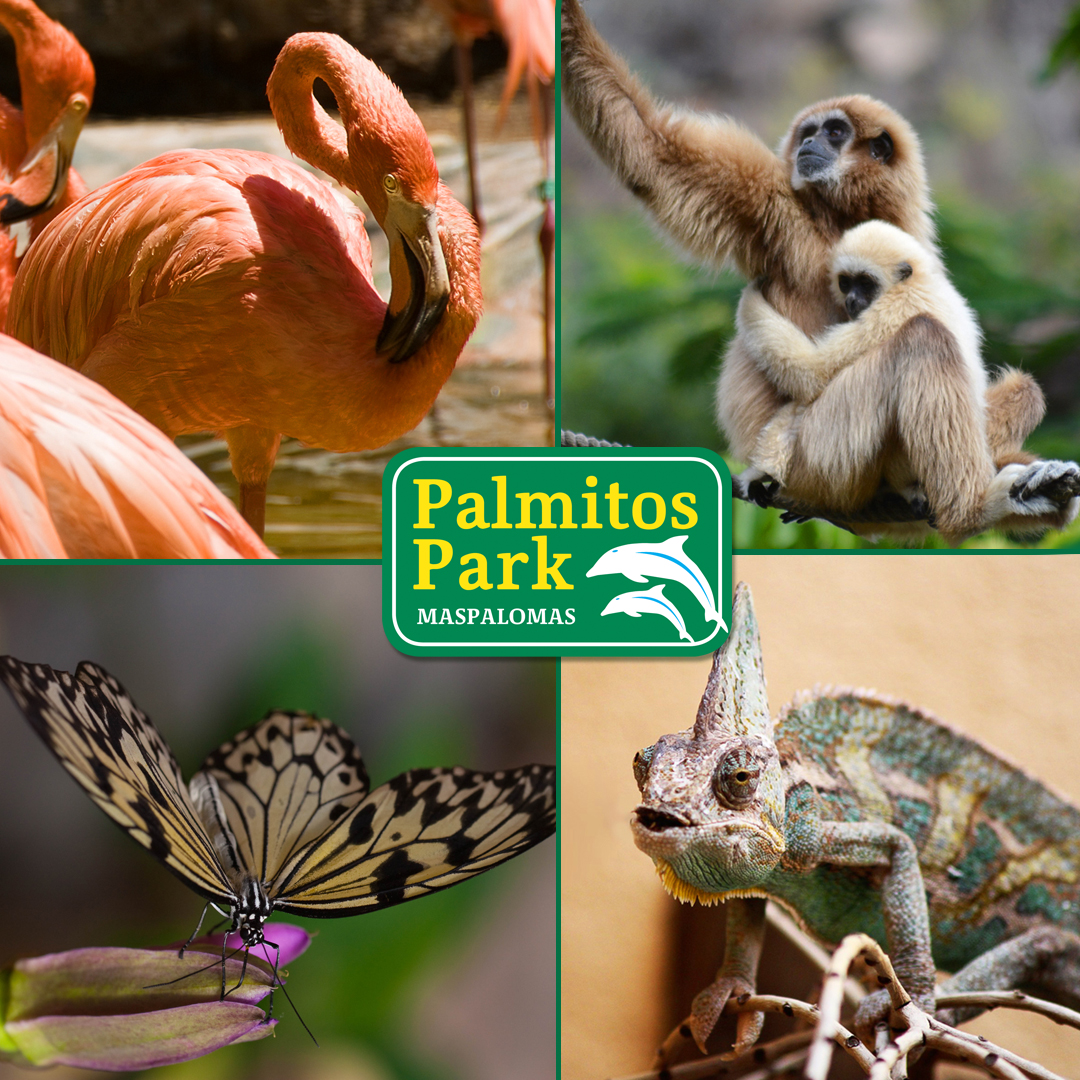 Palmitos Park Maspalomas: much more than a zoo
This is the end of our post on this marvellous zoo in the south of Gran Canaria. Perhaps it's a well-known environment for the residents of the island who, on some occasion, have travelled to Maspalomas to enjoy a natural environment, with a variety of flora and fauna.
 
However, for those who visit us, it may be something unknown, and they may not know very well what Palmitos Park is. In addition to being a zoo that houses numerous animal and plant species, it's a space dedicated to education, to show and transmit the love of nature and animals that live in it.
Palmitos Park has become a reference in the last few years in terms of preserving and caring for all its species, respecting their environment and giving them a better quality of life with their care.
In short, if you visit the island and want to discover a different natural environment, where they try to bring living nature closer to society, as well as enjoying a splendid day surrounded by your loved ones, you can't miss Palmitos Park Gran Canaria.
Did you like this article? Share it!