When you arrive in the Canary Islands, more specifically in Gran Canaria, the first thing you think about is stepping on the wonderful beaches. Its climate, with an eternal spring, long and sunny days, with average temperatures between 19 and 25 degrees all year round, invites you to put on your swimsuit. It is at this point that it is important to get to know the best beaches in the south of Gran Canaria.

Gran Canaria is an island that has a high percentage of blue flag beaches in the whole archipelago, 13 out of 46, which is not surprising given the quality of its beaches, the good climate and its services make it a very important island to consider as a tourist destination.

Despite the fact that these beaches in the southern part of the island receive many visitors and can be overcrowded, there are corners that have not yet been discovered by the majority.

Below, we are going to offer you some of the best beaches in the south of the island, the best and least known known, so that you can enjoy each one of them during your stay on Gran Canaria.
 
Top 5 beaches in the south of Gran Canaria

As you well know, Gran Canaria has many beaches, all of them with a special charm. Some of them have endless kilometres of sand, crystal clear and turquoise waters or beautiful virgin bays to sunbathe surrounded by such a wild nature, that will surprise you.

However, as we can't analyze all of them, we wanted to draw up a ranking of the 5 best beaches in the south of Gran Canaria, from the largest and most popular to the most remote and least known. Do you want to discover them?
 
1. Playa del Inglés

Less than 30 minutes from the capital, Las Palmas de Gran Canaria, Playa del Inglés is one of the most popular beaches in the south of Gran Canaria. It is located on the east side of the Maspalomas Dunes. It is 3 kilometres long and 100 metres wide. Around it there are several leisure establishments such as parks, gardens or sports clubs.
 
2. Amadores

Amadores is one of the most beautiful and bustling beaches in the south of Gran Canaria. It is located in the southwest, between Puerto Rico and Mogán, about 45 minutes from the capital. It is a beach with very fine white sand and spectacular turquoise water. It has a small promenade full of restaurants, bars and cafes so you don't have to leave the beach during your whole stay.
 
3. Anfi del Mar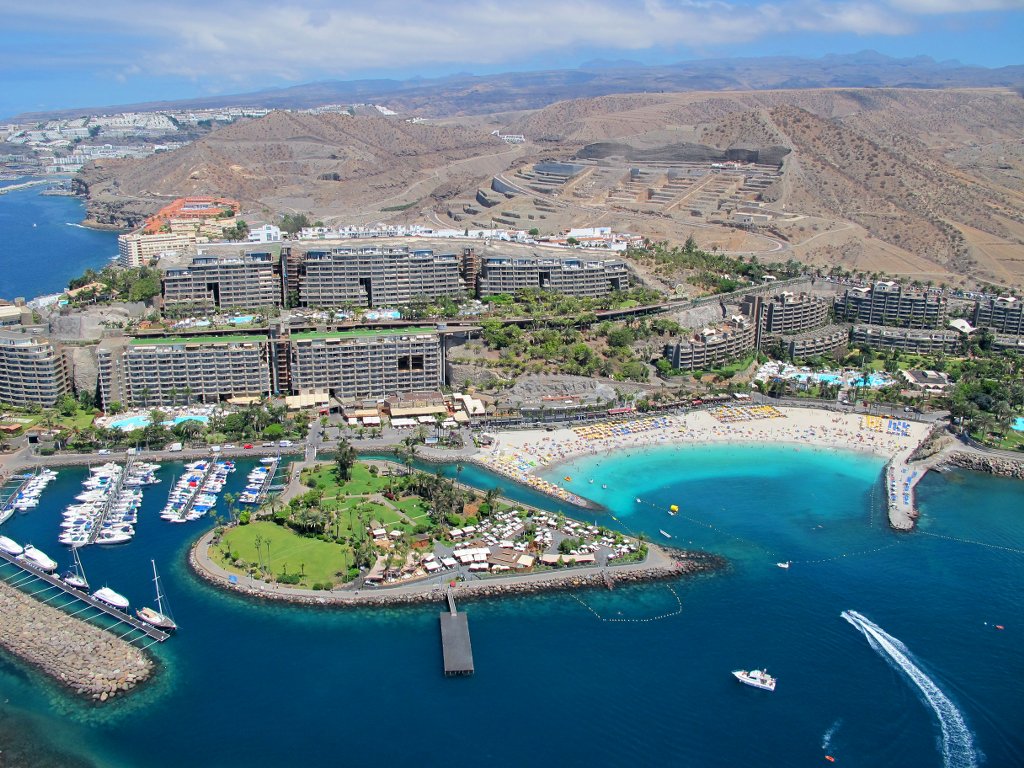 An example of small and charming beaches southern Gran Canaria. It is one of those hidden places that the island offers and will surely surprise you as soon as you set foot on it. Anfi del Mar is a small, exotic beach that belongs to the southern municipality of Mogán. An ideal place to enjoy its golden sand and crystal clear waters. You can take advantage of your visit to have a refreshing drink on one of its many terraces. Also, don't miss the opportunity to visit the artificial island next to its marina.
 
4. San Agustín

Another of Gran Canaria's famous beaches in the south. Here you can see the strength of the wind and its rough waters, where the trade winds are present for much of the year. Despite this small setback, it is a beach with a considerable extension that ends up joining another adjacent beach, Las Burras. It has a quite big promenade, which reaches the Playa del Inglés. You can find bars, restaurants and cafes overlooking the beach.
 
5. Pasito Blanco

It is perhaps one of the least known beaches in the south of Gran Canaria for tourists and for the inhabitants of the island. At times, Pasito Blanco has been synonymous with luxury, yachts and villas, but it is much more than that. It is a small but cosy beach with views of the Maspalomas Lighthouse and Meloneras Beach. Besides enjoying the beach, you can take a walk around the place and discover its small pier.

The beaches in southern Gran Canaria are not only among the best in the archipelago, but also in the rest of Spain. They are waiting for you to enjoy their waters, their sand quality and their landscapes.
Did you like this article? Share it!