Are you on the island of Gran Canaria and don't know what to do in the capital Las Palmas? Don't miss one of Las Palmas' main shopping districts, the neighbourhood Triana. The name is a tribute to the famous neighbourhood of Seville, with its colony of Andalusian merchants. Triana was the most important commercial district of Las Palmas.
This neighbourhood is characterized by its long pedestrian street with many shops and gastronomic offers, whether cafés, terraces, restaurants... In the beautiful, winding streets of Triana you'll find small shops such as shoe shops, ice cream parlours, bakeries, jewellers, fashion shops... But you'll also find the latest fashion and shoe shops near the best places to eat in Las Palmas. 
Are you ready to discover Triana in Las Palmas?
How to get to Triana
Triana is just a few steps away from the old town of Vegueta, and together they form the oldest neighbourhoods in the capital. Don't miss Vegueta, the heart of Las Palmas de Gran Canaria, which together with Triana is one of the most beautiful neighbourhoods in Gran Canaria. 
As a large part of Triana is pedestrianized, it's easy to reach on foot. Also, in front of the Triana shopping street is the island's main bus station and a taxi stand, so it's easy to get there by public transport. 
On the other hand, if you arrive by car, you can park in the paid car parks of Vegueta or in the area around Triana.
What to see in Triana
Because everything is so close together, it's easy to explore Triana and Vegueta in a day. Find out what not to miss in Triana:
Main shopping street Triana
In the main street you'll find all kinds of shops and boutiques, most of which are located on the ground floor of the colonial houses. We also recommend a stroll through the adjoining streets, such as Calle Cano or Calle Pérez Galdós, where you'll find a fantastic gastronomic offer. 
Make the most of your walk and take a look at the old Canarian façades, balconies, doors and windows. You'll also find a section with old rails, which are the few remains of the tram that ran from 1890 to the mid-20th century.
Theatre Pérez Galdós
This Italian-inspired theatre is located opposite the Mercado de Vegueta, one of the most important markets in Las Palmas. On the one hand, it has a modern façade, but on the other, it preserves part of its old façade. If you like musicals, theatre and other types of performances, this place is for you. 
Near the theatre is the Casa Museo de Pérez Galdós, which commemorates one of the country's most famous writers.
The Literary Cabinet
This building, dedicated to the dissemination of culture, is one of the most beautiful neoclassical buildings with modernist decor in the city. It was also the first theatre in the city and next to it is one of the most famous and oldest hotels, the Hotel Madrid. 
Next to it are the important Plaza de Caraisco and the Alameda de Colón, with a children's park and a sculpture commemorating Christopher Columbus' passage through the capital of Gran Canaria. Nearby is also the colonial-style church of San Francisco de Asís. 
Rodríguez-Quegles Palace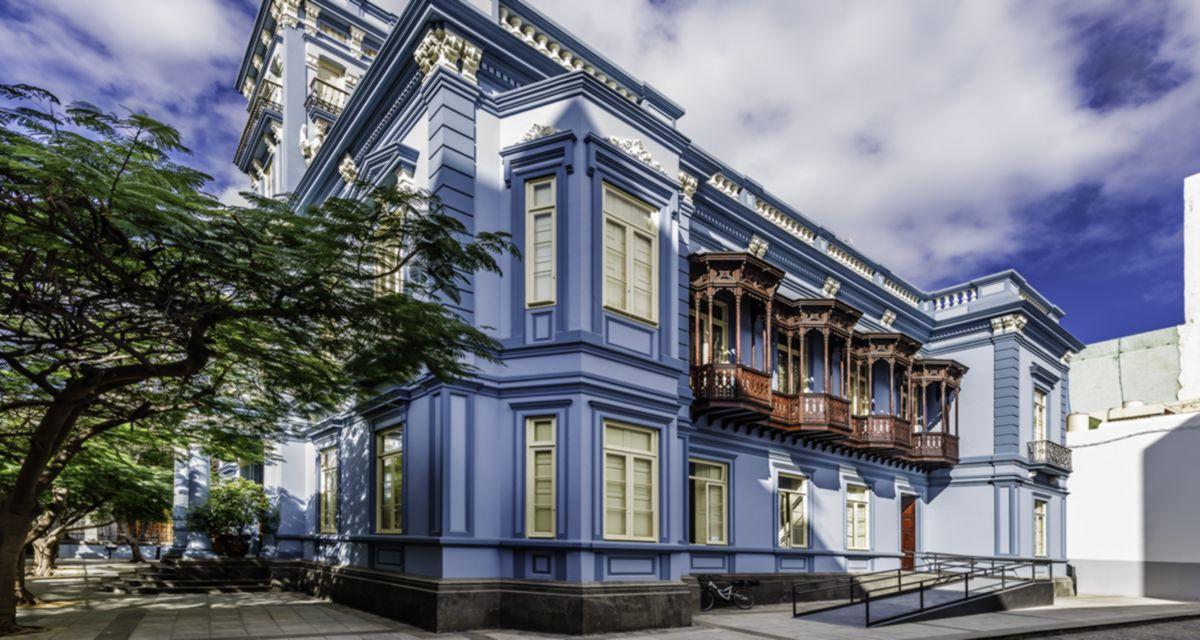 This spectacular house is located in Pérez Galdós Street. The Las Palmas de Gran Canaria Town Hall organizes events here. 
San Telmo Park
This picturesque park is located in front of San Telmo bus station, the most important bus station on the island. It's a large square with playgrounds for children and dogs, a large dome, benches and a café where you can have a drink under the trees. The chapel of San Telmo is also worth a visit.
Where to eat in Triana
Here are some of the best restaurants around Triana:
Local cuisine: we recommend the restaurant Bodegón Las Lagunetas (specializing in Canarian cuisine, with terrace and interior) or El Santo Restaurante (with typical Canarian ingredients).
Tapas and traditional Spanish cuisine: La Travesía de Triana (with Spanish tapas, meat, Serrano ham, cañas...).
Creative Mediterranean cuisine: Qué Leche (with good and familiar service) and Deliciosa Marta, located near Qué Leche. And finally, Majuga (specializing in rice and fideuas and with very good starters and snacks).
Brunch, breakfast, healthy and vegetarian cuisine: Bachaco Poke Bowl and Mr. Kale (specializing in Hawaiian pokés). Healthy food with good value for money. If you like sushi, we recommend Amaki Sushi takeaway.
Italian food: La Mafia se sienta a la mesa (thin crust pizzas with good ingredients).
Visit the Triana neighbourhood
Unlike Vegueta, Triana is more bourgeois and far from aristocratic and clerical, as many sailors and merchants have settled here.
Don't miss the national historical monuments hidden in this neighbourhood. Discover the picturesque corners, streets and houses with their beautiful balconies that tell the story of the island.

Are you looking for accommodation in Las Palmas? Take a look at our catalogue and choose your dream accommodation, if you like to shop and want to be in the middle of the action.
Did you like this article? Share it!