The beaches of Gran Canaria are known for their beauty, crystal clear waters and fine golden sand. With more than 50 kilometres of coastline, Gran Canaria has some of the most impressive beaches in Europe, such as the popular urban beach Playa de Las Canteras, the famous dunes at the Playa de Maspalomas and Playa del Inglés.
On these beaches you can enjoy an exceptional climate all year round, with warm temperatures even in winter.
In addition, the island has an exceptional gastronomy, with a wide variety of restaurants and beach bars where you can enjoy the best traditional dishes of the region.
Gran Canaria's beaches are ideal for enjoying their beauty, mild climate, wide range of activities and excellent gastronomy. 
In this article, we'll talk about the beach of El Risco, a rather unknown but definitely worth a visit beach:
Explore the hidden beach of Agaete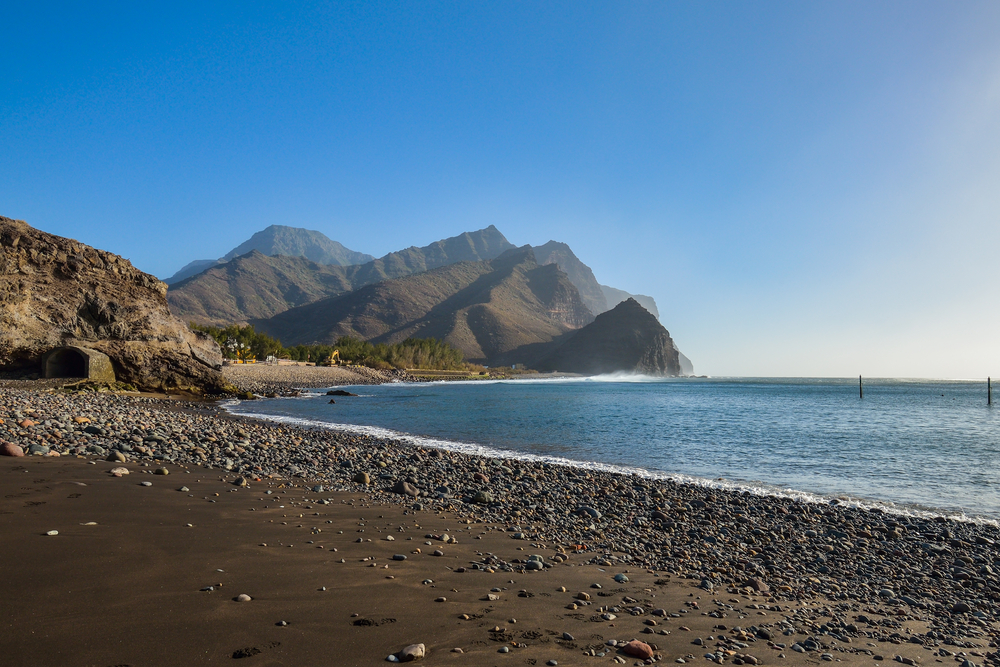 Risco beach is located in the north of the island of Gran Canaria, in the municipality of Agaete, in an undeveloped area surrounded by mountains and cliffs, which makes it a very magical and relaxing place. 
It's a beach of black sand and pebbles, and its waters are crystal clear and of an intense blue colour. Although it has no services of any kind, it's ideal for those who are looking for a quiet and uncrowded place.
Playa el Risco is a magical and unknown place, perfect for those who are looking for a quiet and different beach.
What to do in Playa del Risco
Besides relaxing on the beach, there are many fun activities you can do in this coastal area. You can go hiking, enjoy the panoramic views and, for those looking for a little more excitement, it's an ideal spot for surfing thanks to its waves.
How to get to Risco beach
Taking into account that it's a secluded beach, to get to Risco beach you have to walk for about 20 minutes from the car park located on the road that connects Agaete with Puerto de las Nieves. 
Along the way you'll have to walk along a steep cobbled path, but with stunning views of the ocean and the mountains.
Discover the beaches of Gran Canaria with us
If you liked this article about the El Risco beach in Gran Canaria, in VillaGranCanaria we have different types of accommodation for you to spend your holidays near the best beaches of the island.
From spacious and luxuriousvillas with private pools, comfortable and  family-friendly bungalows, to  apartments  or  charming country houses.
We have the best accommodation for you!
Did you like this article? Share it!