Gran Canaria, also known as the "miniature continent" is a popular holiday destination because of its great climate and variety of landscapes. From long beaches and dunes with white or black sand, volcanic landscapes to green mountains and ravines resembling the Grand Canyon. A third of the island is protected by UNESCO as a biosphere reserve, and thanks to its biodiversity, the Canaries are home to many wild animals, including many marine species and reptiles. Find out in this articles why Gran Canaria is the perfect place to watch dolphins and whales.
Watching whales and dolphins in their natural habitat is a unique experience. The waters of Gran Canaria are home to an immense variety of species, be it fish, other types of marine animals or marine mammals. Therefore, at any time of the year, there's a great chance of spotting dolphins or whales. 
 
That's why a boat trip is the perfect plan to see dolphins or whales. But keep in mind that this adventure depends on many factors. Therefore, we recommend that you put yourself in the hands of professionals. Skippers know the waters and the animals well, and they know where to go to see them. No wonder that the Canary Islands are the top destination of Europe for whale-watching.
Whale-watching in Gran Canaria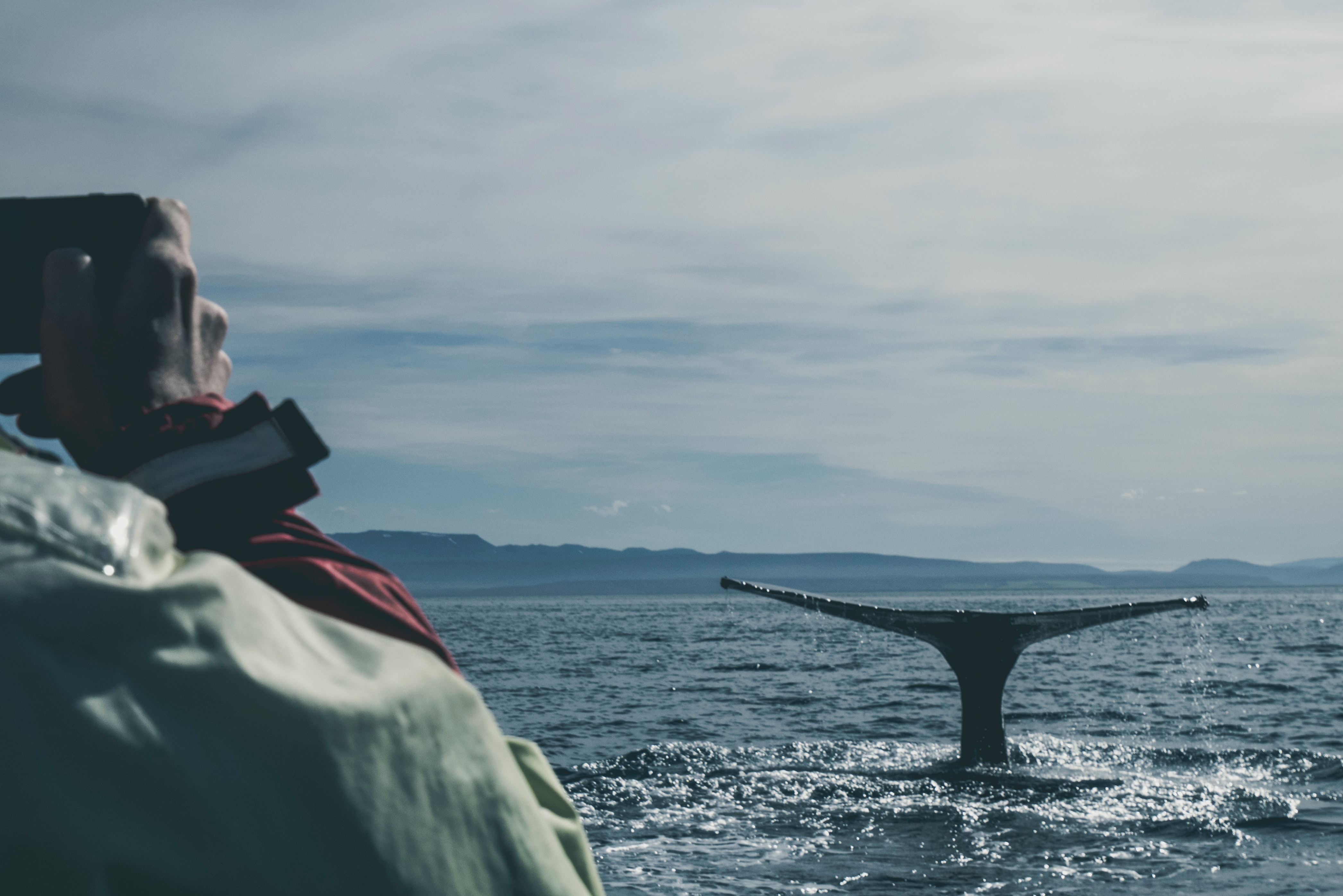 Unlike the rather shy whales, dolphins are very curious, playful and sociable. They love to swim along with the boats and the waves, fascinating passengers with their jumps. 
 
If you're really lucky, you may also see whales or orcas, which are spotted from time to time near Gran Canaria. But note that while the chances of seeing dolphins are extremely high, they cannot be guaranteed. So don't be disappointed if you've booked a boat trip, since many places will give you a free ticket to try again another day. 
It's also important to note that the approach and interaction is solely based on the marine animals and their state of mind. As a matter of principle, distance is kept from the animals from the boats. 
Boat trips to see dolphins and whales
Enjoy a relaxing boat trip to see dolphins and whales in Gran Canaria. Note that, of the marine mammals and whales you may be lucky enough to see, only dolphin sightings are guaranteed, and the dolphin sighting rate is over 90%.
 
Duration of the boat trips
The duration of the boat trip is between 2 and 6 hours, depending on the operator. Some trips offer a break at southern beaches such as the hidden Güigüi beach, where you can swim and sunbathe, accompanied by a picnic or meal on the boat. The unspoilt GüiGüi beach is located in the west of Gran Canaria, hidden in a bay surrounded by high cliffs. Let yourself be enchanted by this wild and romantic beach, and enjoy the breathtaking backdrop with magnificent views. The perfect stopover for dolphin and whale watching off Gran Canaria.
Where to go on boat trips
Most boat trips start in the south of Gran Canaria, usually from the port of Mogán or Pasito blanco. However, dolphin spotting is also possible from the main town of Las Palmas. 
 
The boats for whale watching
Many boats or catamarans are specially designed for marine mammal watching and are spacious, beautiful and comfortable. Some have glass bottoms, giving you a perfect view of the seabed and the variety of marine life. The boats are shared with a maximum of 200 other people. Some boats also have a lounge or bar where you can enjoy delicious food or tasty cocktails.
Marine mammal species
Less than 20 kilometres from the coast, we can spot up to 29 species of marine mammals, including different types of dolphins and whales such as humpbacks, orcas, beaked whales, sperm whales, pilot whales... and these are just some species you'll be lucky enough to see. 
In Gran Canaria, the cetaceans feel particularly at home, thanks to the abundant plankton washed up by the so-called "Canary Current". 
An unforgettable experience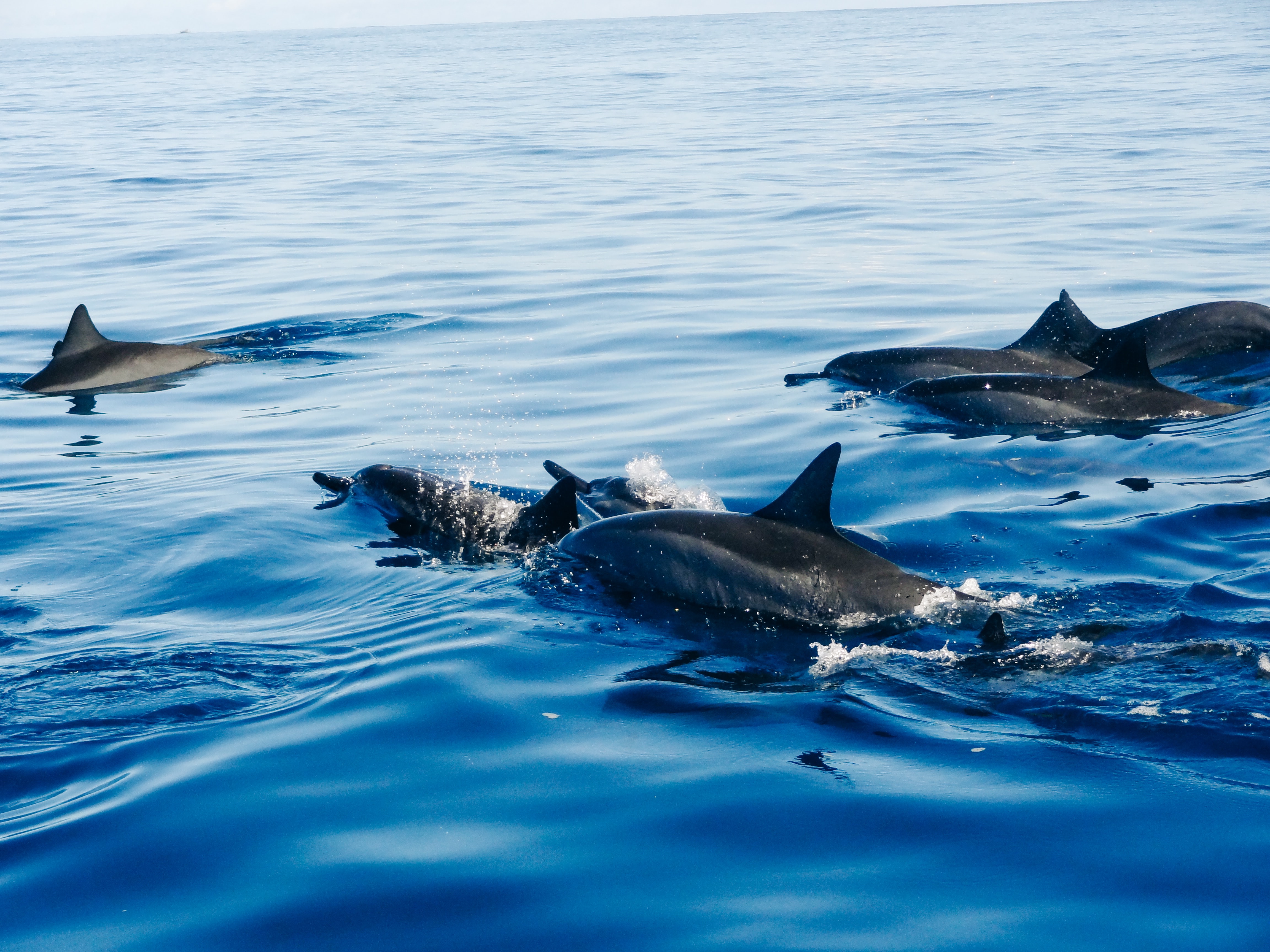 Photograph and film the striped, speckled dolphins or porpoises at play, or as they pass by the boats and make joyful leaps. Whale watching in Gran Canaria is undeniably a unique experience, where you can observe the marine mammals in their natural environment. 
 
Relax with a pleasant boat ride on the spacious deck or in the lounge with a drink. Visit wild beaches, and round off your day with a picnic on the beach. Enjoy the Canarian sun and sea, and discover hidden coves and caves. The boat trips are also the perfect way to snorkel and swim at the coves. Discover the surroundings, birds, plants and rock formations on the boats. You also have a breathtaking view of the cliffs.

In short, a dolphin tour in Gran Canaria is a unique and magical experience to make unforgettable moments and is one of the best memories of your holiday on the island. Be greeted by dolphins and whales in the wild on the Atlantic Ocean! If you love fish, we recommend a visit to Poema del Mar, the new aquarium in Gran Canaria.
Did you like this article? Share it!