There is no secret that Gran Canaria is a paradise for hiking lovers. Due to its orography and the many ravines that have been created, many paths open up, making hiking in Gran Canaria a wonderful pastime. Not that known is the hiking trail through Inagua.

Hiking lovers will not be disappointed in Gran Canaria, especially because the weather is great all year round and the temperatures are between 17 and 24 degrees. That makes hiking a great experience.

If you enjoy hiking and you are looking for challenges, Gran Canaria is perfect for you if you want to practice one of the healthiest sports: Hiking. In the following we will explain one of the most beautiful hiking trails in Gran Canaria and give you some important tips you should consider before you start.
 
What to know about starting the hiking trail through Inagua

The nature reserve of Inagua, which shares its name with many islands of the Caribbean, consists of the pine forests of Inagua, Ojeda and and Pajonales. These are the best preserved ones and they are located between Mogán, La Aldea de San Nicolás and Tejeda.

From these areas the most important ravines of the southeast of Gran Canaria start. They are important for the protection of the groundwater and the soil. It is therefore not surprising that many hiking enthusiasts enjoy visiting this area, which is over 1000m high.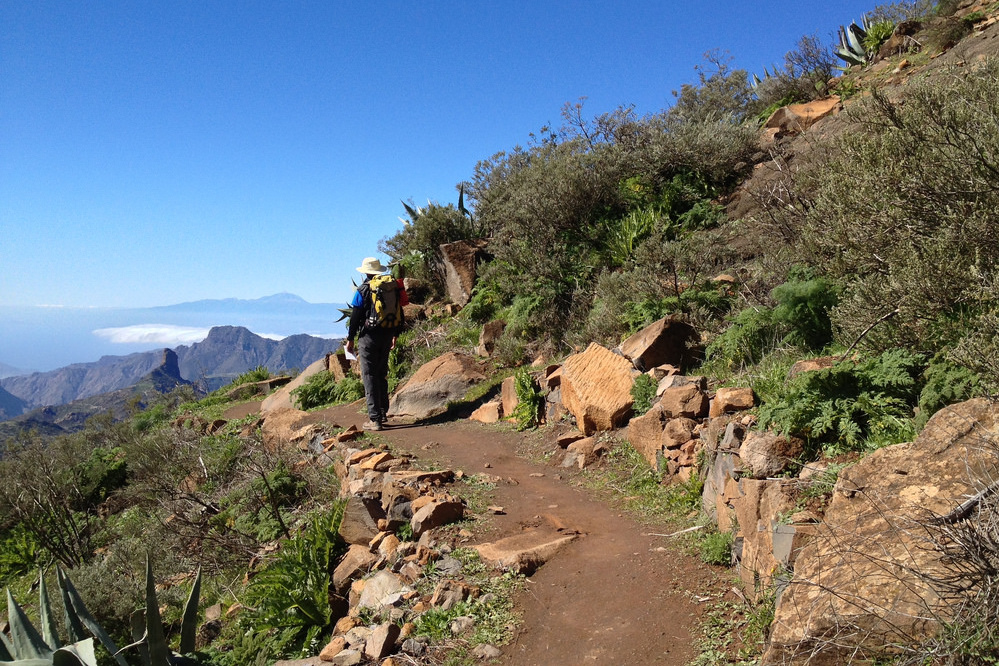 Besides Ojeda and Pajonales, the flora and fauna of the pine forest of Inagua are unique. Here you can find, among other things, some endemic plants of Gran Canaria:
 
Canary Island pine (Pinus canariensis)
Rockrose (Cistus monspeliensis)
Tree lucerne (Chamaecytisus proliferus)
Flowering plant (Euphorbia regis-jubae)
Teline (Teline rosmarinifolia)
Helianthenum (Helianthemum inaguae)
Gran Canaria blue chaffinch (Fringilla polatzeki)
Woodpecker (Dendrocopos major thanneri)
African blue tit (Parus caeruleus teneriffae)
Egyptian vulture (Neophron percnopterus)

As on any normal hike it is important to take the following things with you:
 
Sturdy shoes and solid clothing
Sun protection for the head
Hiking poles if needed
Sun cream with at least sun protection factor 50 (UV radiation is much stronger in the Canary Islands)
Water

In addition, we recommend that you have the following items with you:
 
GPS or mobile phone, as many routes are not marked (112 for all emergencies)
Stay away from abysses, as there is often a lot of wind and you never know if it is safe. It is better to sit down
Never light a fire, as the island is very dry and the consequences can be quite serious
In winter definitely take a jacket with you, as you don't know what to expect suddenly
Leave early so that you can get back before it gets dark
Circular route Pajonales - Inagua passing Lomo Barbuzano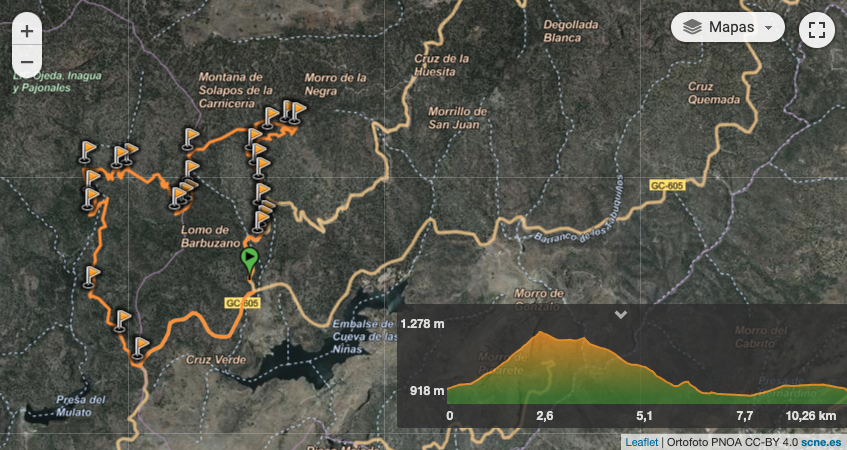 This unique hiking trail in Gran Canaria starts at kilometre 11 of the GC-605, very close to the reservoir Presa de las Niñas. The circular trail is approximately 10 kilometres long, takes approximately 4 hours and the degree of difficulty is medium.

The route starts at 918 m above sea level and already in the first quarter you reach the highest point. It is a longer ascent from the beginning, but it is easy to manage. After that, the rest of the route is almost only downhill with a lot of vegetation and even a small tunnel for which the flashlight of the mobile phone is enough.

This circular path offers a great panorama to the inner part of the island and to the neighboured island Tenerife with the Teide (highest mountain of Spain with 3718 m over the sea level).
 
Hiking through Inagua - a unique experience

As you may have noticed, the Inagua Integral Natural Reserve is an ideal place for all hiking lovers to feel free by living their passion. Gran Canaria is known as the "continent in miniature" for its diversity of landscapes, among which the impressive interior is dominated by the giant the Roque Nublo.
Did you like this article? Share it!