Roque Nublo is one of the most emblematic landmarks of Gran Canaria. Located in the municipality of Tejeda, it's one of the largest natural rocks in the world. It's more than 80 metres high and is located more than 1,800 metres above sea level. Roque Nublo began as a place of worship for the indigenous people, and in 1987 it was declared a nature reserve and Protected Natural Area. It also forms part of one of the best hiking and trekking routes in Gran Canaria.
 
How to get to Roque Nublo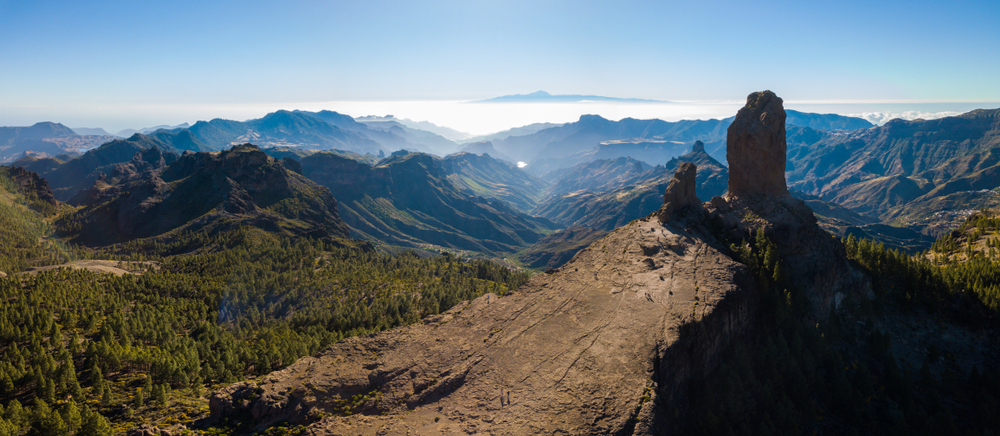 Roque Nublo is located in the municipality of Tejeda, in the Nublo Rural Park. To get there, we recommend driving from Las Palmas de Gran Canaria to Santa Brígida and then get to Tejeda via Vega de San Mateo. It takes about 90 minutes from Las Palmas, although it takes about the same time from Maspalomas, via the Fataga road.
We recommend including breaks to eat and drink, take photos and enjoy the spectacular views. We also recommend a stop at the Cruz de Tejeda viewpoint, where you can try typical foods such as cheese and honey from the municipality. 
We continue to the viewpoint of Degollada de Becerra, from where you can see Roque Nublo, Roque Bentayga, the municipality of Tejeda and the Caldera de Tejeda in the distance. When you're lucky and with good weather, you can even see the silhouette of Tenerife's Teide volcano. In the car park near Degollada de Becerra is the starting point of the Roque Nublo hiking route.
Hiking with views of the peaks of Gran Canaria
Are you passionate about hiking? Do you feel like hiking in the mountains of Gran Canaria? Then Roque Nublo is the ideal hiking route for you. 
 
The hiking route starts on the main road, which we follow for 1.5 kilometres to the natural monument of Roque de La Rana. On the way, we pass Roque El Fraile, another natural monument. The Roque Nublo hiking route is five kilometres long and offers impressive views of the dams Soria, Las Niñas and Chira, as well as charming places such as Artenara and Acusa. But what makes Roque Nublo, so special are its panoramic views of the interior of the island, with the Caldera de Tejeda, the Llanos de la Pez and the Pozo de las Nieves.
We recommend visiting Roque Nublo in the afternoon, so you can enjoy one of the most spectacular sunsets on the island. Another advantage is that it's less crowded.
 
Because of its easy accessibility, Roque Nublo is also suitable for children, so you can take your kids with you on the adventure!
What to see at Roque Nublo Rural Park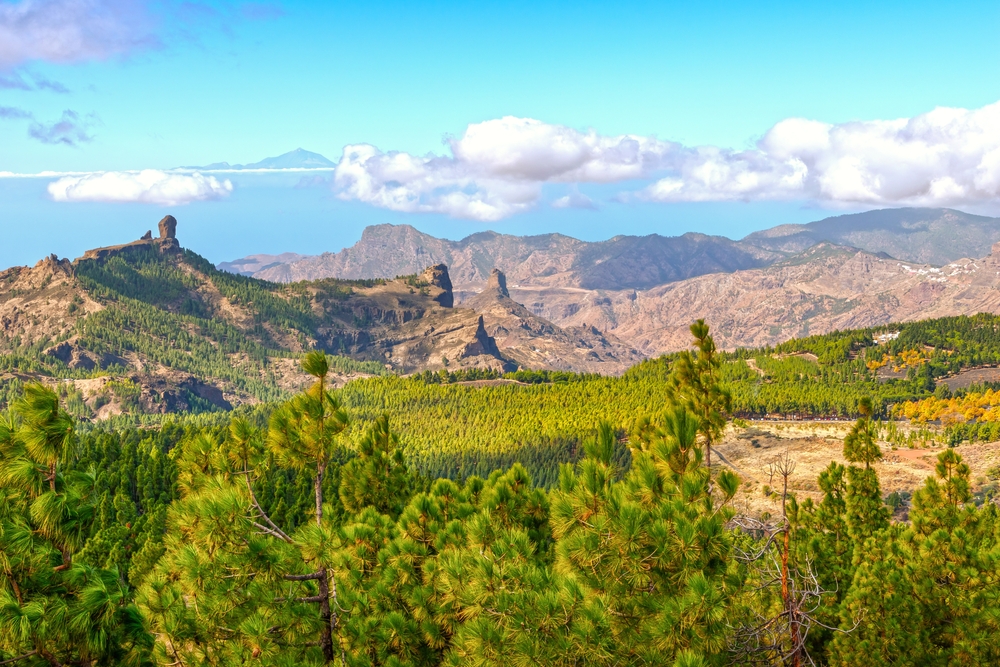 Roque Nublo is a wonderful place and is, without a doubt, one of the best excursions in Gran Canaria. It's surrounded by Canary Island pine trees, which are known for their ability to sprout and recover easily after a fire.
Abundant fauna and flora
Throughout the Roque Nublo area you can see numerous species of animals, such as reptiles (lizards, perenquenes, geckos or giant lizards), birds (woodpeckers, Gran Canaria blue chaffinch, crows, gnatcatchers, wild canaries or birds of prey [buzzards, sparrowhawks and kestrels], such as owls and pygmy owls), mammals (wild hares) and many more.
Magical natural areas
The surroundings of Roque Nublo offer many different landscapes and breathtaking views. Among the most outstanding places are the following:
 
Pico de las Nieves: Pico de las Nieves is the highest mountain in Gran Canaria. From here you can see several nature reserves such as the protected landscape of Las Cumbres and the Riscos de Tirajana.
Tejeda: This village, of volcanic origin, was named one of the most beautiful villages in Spain in 2017. You can stroll through its streets and see the picturesque white houses, as well as visit one of its restaurants and taste the local cuisine. We recommend trying the almond sweets that are made in the same municipality.
Caldera de Tejeda 
Roque Bentayga: On this imposing basaltic rock, settlements of ancient Canary Island aborigines have been found in the caves of El Rey and Roque Camello.
Roque de la Rana: Roque de la Rana is located on a kind of rectangular plain (El tablón del Nublo), next to Roque Nublo. Its name comes from the fact that the rock is shaped like a frog.
Recommendations before hiking to Roque Nublo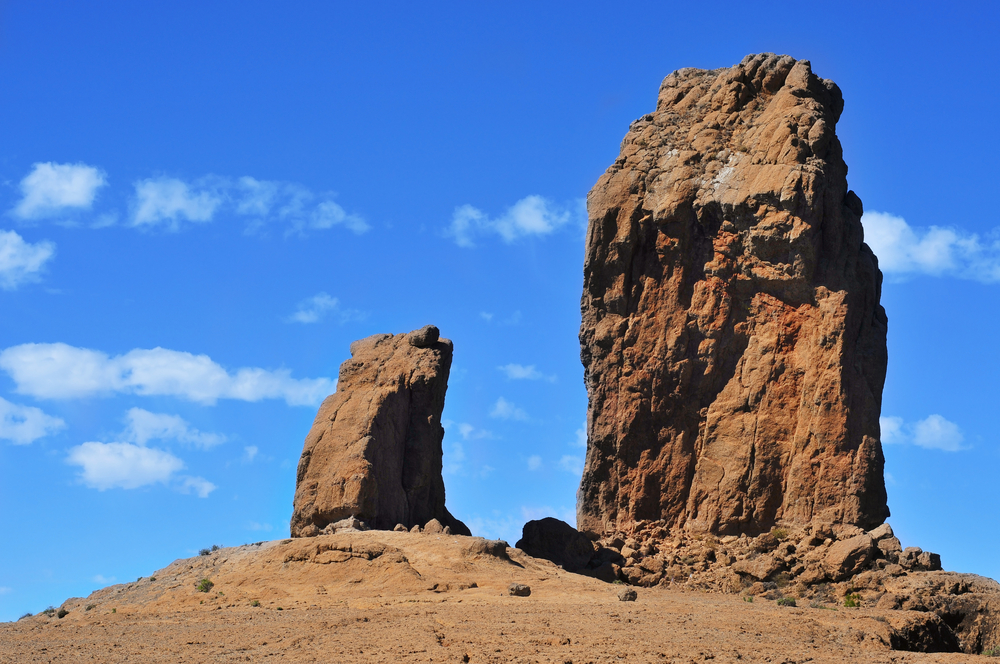 Here are some suggestions before you set off on your trip to Roque Nublo:
Wear the right footwear. As this is a mountain hiking route, it's important to wear hiking shoes, as the path is steep at some points.
Take plenty of water and food. After all, hiking is a sport, and you need to be sufficiently hydrated.
Don't forget to bring sunscreen and a hat. Don't underestimate the sun, protect yourself from it to avoid heat stroke or unpleasant sunburns.
Take a jacket. With the difference in altitude, it can get colder, especially in winter.

You can also take mosquito or insect repellent.
Accommodation near Roque Nublo
Are you looking for country houses in the mountains? Don't miss our rural secrets and enjoy a private pool with mountain views and much more. At VillaGranCanaria we have luxury accommodation, villas, flats and holiday homes with private pool and much more, we're waiting for you!
Did you like this article? Share it!