Traditional Canarian dishes: ropa vieja
Canarian ropa vieja is a typical dish made from the leftover broth and stew that can be found throughout all the archipelago.
Recipe: how to make ropa vieja canaria step by step
Canarian-style ropa vieja is a representative dish of Canarian cuisine made with the leftovers from the broth, such as chickpeas, beef and chicken.
It's accompanied by a traditional sofrito sauce made with pepper, onion, garlic and crushed tomato.
It tastes even better if it's prepared overnight, and you can add some diced fries, to taste.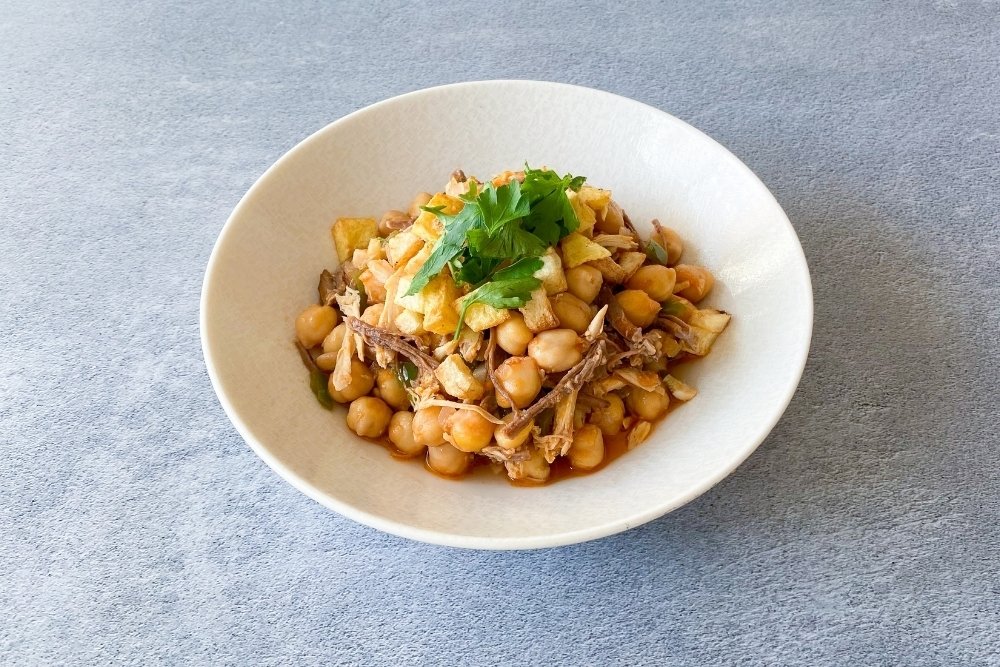 Ingredients for the canarian ropa vieja for 4 people
400 g chickpeas

400 g beef

400 g chicken 

2 medium onions

4 garlic

1 green or red pepper to taste

3 tomatoes

75 ml dry white wine

1 bay leaf

Spices to taste (sweet paprika, oregano, thyme, cumin)

Fries to taste

Parsley

Salt

Pepper

Extra virgin olive oil


 
Preparation of the ropa vieja, Canarian style
Remove the chickpeas, chicken and beef from the stock.

Pull and set aside.

Cut the pepper, onion and garlic into brunoise (small cubes).

Sauté with two tablespoons of extra virgin olive oil.

Season with salt and pepper.

Grate the tomato.

Add to the casserole when the onion starts to turn transparent.

When the tomato is well cooked, add the bay leaf, the chickpeas, the chicken and the beef, previously shredded.

Pour in the white wine and turn up the heat so that the alcohol evaporates.

Add the spices to taste and cook for 3 minutes, stirring well.

Serve with diced fries to taste and chopped parsley.
As you'll have seen, ropa vieja canaria is a simple dish that reuses the leftovers from broths and stews and transforms them into a true culinary delight.
Did you like this article? Share it!